ShortBookandScribes #BookReview – Hush Hush by Mel Sherratt @writermels @AvonBooksUK #BlogTour
I'm delighted to be reviewing my very first Mel Sherratt today (although I have read one of her Marcie Steele books, The Second Chance Shoe Shop, which was a lovely read). My thanks to Sabah Khan for the place on the tour and the review copy.
A killer is on the loose, attacking people in places they feel most safe: their workplaces, their homes. It's up to DS Grace Allendale to stop the murders, and prove herself to her new team.

All clues lead to local crime family the Steeles, but that's where things get complicated. Because the Steeles aren't just any family, they're Grace's family. Two brothers and two sisters, connected by the violent father only Grace and her mother escaped.

To catch the killer, Grace will have to choose between her team and her blood. But who do you trust, when both sides are out to get you?
---

This is my first Mel Sherratt book and I'm wondering why that is. I've missed out on so much! I absolutely loved Hush Hush.
Grace Allendale has just moved back to her childhood home of Stoke on Trent to take up her first post as a Detective Sergeant. She's experienced loss so moving back seems like the right thing to do but it's complicated by the fact that local well known crime family, the Steeles, also happen to be her family. Unfortunately, Grace's first case is a series of murders that seem somehow to be linked to the Steeles. Tricky!!
I loved Grace. I thought she was incredibly brave and strong, and also principled. She leads a team of officers who she has to try and win over and gain their trust. This is doubly hard considering who her family are and I thought Grace dealt with it very well.
For me, Hush Hush stands out in the police procedural/thriller genre. It's so well written, absolutely gripping and with a main character that appeals to the reader. I thought it was brilliant and I can't wait to read the second in the series, Tick Tock, out in April 2019.
I must admit that I did guess who the killer was but that didn't matter at all. I enjoyed Grace's investigations, her dealings with her family and the glimpses into her private life which I guess will be explored further in the next book. Hush Hush is so well plotted, with elements of the story being drip-fed to us to lead us down the path towards the conclusion. One of the strands was a surprise and made me rethink certain things that I had read which I thought was a clever ruse by the author.
I thought this was a gritty, pretty unputdownable read. The chapters are short which made it particularly fast-paced and meant I would always just fit another one in, and another one, and…..you get the picture. I highly recommend it.
---

---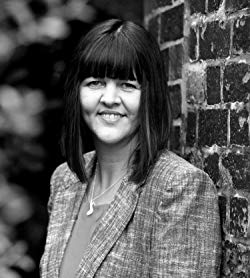 Mel Sherratt is the author of ten novels, all of which have become bestsellers. In 2017, she was named as one of her home town of Stoke-on-Trent's top 100 influential people.
She lives in Stoke-on-Trent, Staffordshire, with her husband and terrier, Dexter.
Author photo taken from Amazon