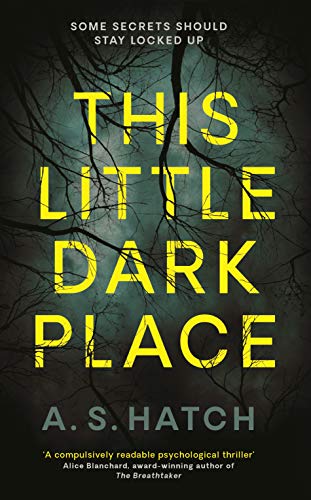 ShortBookandScribes #BookReview – This Little Dark Place by A.S. Hatch @serpentstail #BlogTour
Welcome to my stop on the blog tour for This Little Dark Place by A.S. Hatch. I'm so pleased to be sharing my review of this twisty story today. My thanks to Niamh Murray and Rachel Nobilo from Serpent's Tail for the fabulous proof copy of the book and for asking me to be a part of the blog tour.
---
How well do you know your girlfriend?

How well do you know your lover?

How well do you know yourself?

Daniel and Victoria are together. They're trying for a baby. Ruby is in prison, convicted of assault on an abusive partner.

But when Daniel joins a pen pal program for prisoners, he and Ruby make contact. At first the messages are polite, neutral – but soon they find themselves revealing more and more about themselves. Their deepest fears, their darkest desires.

And then, one day, Ruby comes to find Daniel. And now he must decide who to choose – and who to trust.
---

I wanted to read This Little Dark Place as soon as I heard about it. I was attracted by the pen pal programme for prisoners and what effect that kind of contact would have on the people involved.
The book begins with "Dear Lucy", the start of a letter from Daniel in August 2033. It's clear that this is not an established relationship as Daniel launches into his story of life with Victoria. They were trying to start a family when Daniel came across the pen pal programme which hooked him up with Ruby. As you might imagine, with this kind of correspondence it's easy for Daniel and Ruby to lay their souls bare and reveal more about themselves and their lives than they perhaps should have. Always dangerous. As the letter progresses we find out more about Daniel and Victoria's relationship and his subsequent meeting with Ruby.
This is a relatively short book at under 300 pages but there's so much packed into it and not a single word is wasted. This is Daniel's story and I was completely invested in it and yet, could I trust him? This is what I kept asking myself. Was Victoria really as cold as she seemed? What about Ruby, was she dangerous or vulnerable? These and other questions kept me engrossed in this book.
There's a sense of foreboding throughout, a really strong one. Coupled with that, the author throws in a remote cottage in the woods, almost hidden from civilisation. That cover conveys perfectly the darkness not only of the story but also of the setting.
This is not really a crime or a murder story but it is a psychological thriller. The darkness within it comes from the mind, of where it can take you and what it can conjure up. I was stunned at how things turned out and shocked right up to, quite literally, the very last word.
This Little Dark Place is a quietly tense and ominous story. It's also a fantastic one that kept me gripped. I didn't want to rush it, I wanted to take in every detail, every nuance. There's much more to it than at first glance. Peel back the layers and take a trip into the shadows of the human mind. You won't regret it.
---

---

A.S. Hatch grew up in Thornton-Cleveleys, a small town near Blackpool. After graduating in 2007 with a degree in journalism he moved to Taipei, Taiwan where he taught English as a foreign language for two years before moving to Melbourne, Australia. Andrew returned to the UK in 2013 and now lives in London where he works in political communications.
He began writing fiction at university. His novel Los Gigantes was shortlisted for the Luke Bitmead Prize in 2013 and his short story Flies was chosen by WyrdBooks Ltd as their short story of the month in October 2012.