ShortBookandScribes #BookReview – The Whistling by Rebecca Netley
Today I'm sharing my thoughts about The Whistling by Rebecca Netley which was published yesterday by Michael Joseph. My thanks to the publishers for the gorgeous proof copy of the book for review purposes.
---

---
Alone in the world, Elspeth Swansome takes the position of nanny to a family on the remote Scottish island of Skelthsea.

Her charge, Mary, hasn't uttered a word since the sudden death of her twin, William – just days after their former nanny disappeared.

No one will speak of what happened to William. Just as no one can explain the hypnotic lullabies sung in empty corridors. Nor the strange dolls that appear in abandoned rooms. Nor the faint whistling that comes in the night . . .

As winter draws in and passage to the mainland becomes impossible, Elspeth finds herself trapped.

But is this house haunted by the ghosts of the past?

OR THE SECRETS OF THE LIVING . . . ?
---

---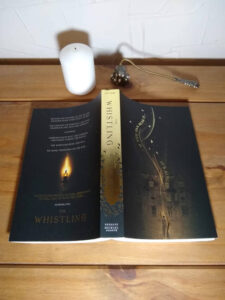 A book set on a remote Scottish island, you say? Count me in! The Whistling is set on the island of Skelthsea where Elspeth travels from Edinburgh in 1860 to take up a position as nanny to Mary, a young girl who has recently lost her twin brother. Elspeth's feelings are in tune with Mary's, having recently also suffered a tragic bereavement of her own. Mary lives at Iskar with her aunt, a cook and a couple of servants. This is not a happy tale, but one of sinister goings on in the closed off rooms of the house, hummed lullabies in the corridors, dolls and a strange sound of whistling.
I loved the setting of this book. Island life has its own particular set of ways and Skelthsea is no different. It's a small community and felt very insular and at times unwelcoming. I thought the author did a marvellous job at portraying this, especially for Elspeth coming from a big city.
I'll be honest and say that ghost stories aren't always my thing. Maybe it's an inability to let myself suspend disbelief and just go with it. However, I have to say that Rebecca Netley's narrative is as convincing as I could find a ghost story and is certainly well-written and well-constructed, with an initial slow burn building up to a crescendo of an ending. I liked the idea of the whistling and the story behind it along with the elements of witchery which really created a creepy and ominous vibe.
I liked Elspeth, who I found plucky and determined. I particularly enjoyed her relationship with her charge, Mary, and how that developed throughout the story. Whilst, perhaps in the very depths of my mind, I had an idea of how part of the ending might pan out, it was still a surprise and I thought it a clever way to add an unexpected ingredient to the mix.
I thought The Whistling was a beautifully written and intricate gothic tale with an atmospheric setting……and remember…..if you can hear it…..it's already too late.
---
---
Rebecca Netley grew up as part of an eccentric family in a house full of books and music, and these things have fed her passions.
Family and writing remain at the heart of Rebecca's life. She lives in Reading with her husband, sons and an over-enthusiastic dog, who gives her writing tips.
The Whistling is Rebecca Netley's debut novel and won the Exeter Novel Prize.