ShortBookandScribes #BookReview – The Unravelling by Liz Treacher
Today I'm sharing my thoughts about The Unravelling by Liz Treacher. My thanks to the author for my review copy of the book which is published by Skelbo Press.
---

---
For Ella Aldridge, a brilliant Classics student, life was supposed to be exciting. Thirty years on, she's stuck in the suburbs in a boring job and a failing marriage. Even her daughter, the one she gave it all up for, seems distant.

But a sinister encounter on platform three is about to change everything. Under the watchful eye of a shadowy ticket inspector and his mysterious associate, Ella finds herself spiralling into a murky underworld where portentous signs appear from nowhere, thoughts are stored on memory sticks and speeding express trains may be more than they seem. As she begins to lose her grip on reality, Ella embarks on an extraordinary journey that touches everyone around her, forcing her to confront the biggest question of all.

By turns poignant, chilling and tinged with dark humour, The Unravelling is a novel full of heart and beauty, about the myth and magic of everyday life, and the sacrifices we make for what really matters.
---

---
Having read Liz Treacher's previous two novels I can categorically say that this is a completely different style of story, although the sharp wit and quirkiness are still in evidence.
Ella Aldridge is an English Language teacher at the local college but she was always destined to be a Classics scholar, Latin being her specialist subject. But life has a way sometimes of steering a person off course and Ella now finds herself in a boring job and a boring marriage.
So far, so normal. Then a rather odd experience on the train to work leads to a most bizarre week which we follow in daily chunks. This is the sort of story that I think needs some thought to grasp the nuances, the idea that to get back on track requires changes, both in thought and deed. On the surface, The Unravelling is an unusual story of a mid-life crisis but underneath the everyday there is so much more lurking.
The author herself describes the book as light and dark which seems pretty accurate. There is a lightness in following Ella's day to day travels to work and back, her difficult relationship with her husband, her dealings with her daughter and granddaughter, her neighbours (one of whom gets regularly on her nerves), and so on. But the darkness comes in the sinister actions of a train inspector and a life coach who, whilst freaking Ella out, might just change her life for the better.
I do enjoy Liz Treacher's writing. The Unravelling is certainly a thought-provoking novel, with interesting and well-formed characters. I think it's the story itself that is the star here though, making the reader question their own journey through life. Oh, and I'm still pondering over the ending after a second reading, wondering if I've interpreted it correctly. The Unravelling is a book that really gave me lots to think about and I enjoyed it very much.
---
---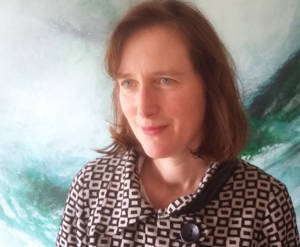 Liz is a writer and an art photographer and a love of images influences her writing. She is married with two children and lives in the Scottish Highlands by the sea.
Liz was drawn to writing after she discovered a tiny suitcase belonging to her grandmother. It was tied up with gingham ribbon and full of letters sent by two soldiers on their way to the First World War. The cheerful tone of the soldiers and the way their letters seemed to conceal more than they revealed inspired Liz's first novel, 'The Wrong Envelope.' She has since written a sequel, 'The Wrong Direction' and a darker, contemporary novel, 'The Unravelling'.