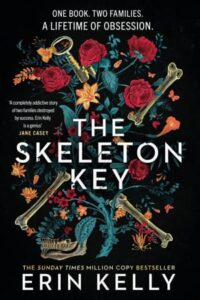 ShortBookandScribes #BookReview – The Skeleton Key by Erin Kelly
The Skeleton Key by Erin Kelly was published on 1st September by Hodder & Stoughton in hardcover, eBook and audiobook. My thanks to Eleni Lawrence for sending me a copy for review.
---

---
THIS REUNION WILL TEAR A FAMILY APART …

Summer, 2021. Nell has come home at her family's insistence to celebrate an anniversary. Fifty years ago, her father wrote The Golden Bones. Part picture book, part treasure hunt, Sir Frank Churcher created a fairy story about Elinore, a murdered woman whose skeleton was scattered all over England. Clues and puzzles in the pages of The Golden Bones led readers to seven sites where jewels were buried – gold and precious stones, each a different part of a skeleton. One by one, the tiny golden bones were dug up until only Elinore's pelvis remained hidden.

The book was a sensation. A community of treasure hunters called the Bonehunters formed, in frenzied competition, obsessed to a dangerous degree. People sold their homes to travel to England and search for Elinore. Marriages broke down as the quest consumed people. A man died. The book made Frank a rich man. Stalked by fans who could not tell fantasy from reality, his daughter, Nell, became a recluse.

But now the Churchers must be reunited. The book is being reissued along with a new treasure hunt and a documentary crew are charting everything that follows. Nell is appalled, and terrified. During the filming, Frank finally reveals the whereabouts of the missing golden bone. And then all hell breaks loose.

From the bestselling author of He Said/She Said and Watch Her Fall, this is a taut, mesmerising novel about a daughter haunted by her father's legacy . . .
---

---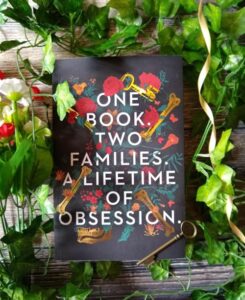 Where to begin to describe The Skeleton Key….a multi-faceted trip through the lives of two families and a book that seems always to threaten to tear them apart seems about right and yet there is so much more to discover between the pages of this book.
The Churcher family and the Lally family: inextricably linked, Frank Churcher and Gerald 'Lal' Lally being the head of each. Best friends, but somehow always that edge of rivalry. Fifty years ago Frank wrote The Golden Bones, a book with a mystery and a search for a missing golden bone at its heart. Now, the anniversary is being celebrated and Nell has returned home, but events are about to come to a head.
The Skeleton Key is absolutely brilliant and most definitely my kind of read. It's been described as a slow burner and the gradual unfolding of events past and present fits that description. However, don't mistake that for a slow read. This is a book that had me completely and utterly gripped, held in its thrall from first page to last.
Whilst primarily told by Nell in the present day, the story does go back into the past to drip-feed key moments. It's so intricately and expertly plotted and I found myself frantically turning back through the pages to see where the latest plot twist originated, knowing that it was there and that the detail that seemed so benign at first is in fact so very important. The hand over the mouth moments just kept coming right up until the end. There are many tangled family relationships and friendships tied up with a treasure hunt over the years and this leads to numerous revelations and shocking twists and turns which completely delighted me.
A book about a book – bliss! A book about a dysfunctional family dealing with the skeletons in their closet – perfection! A dark and intense story that had my eyes glued to the page – magnificent! The Skeleton Key is outstanding and glorious in every way.
---
---
Erin Kelly is the Sunday Times bestselling author of The Poison Tree, The Sick Rose, The Burning Air, The Ties That Bind, He Said/She Said, Stone Mothers/We Know You Know, Watch Her Fall and Broadchurch: The Novel, inspired by the mega-hit TV series. In 2013, The Poison Tree became a major ITV drama and was a Richard & Judy Summer Read in 2011. He Said/She Said spent six weeks in the top ten in both hardback and paperback, was longlisted for the Theakston's Old Peculier crime novel of the year award, and selected for both the Simon Mayo Radio 2 and Richard & Judy Book Clubs. She has worked as a freelance journalist since 1998 and written for the Guardian, The Sunday Times, Daily Mail, New Statesman, Red, Elle and Cosmopolitan. Born in London in 1976, she lives in north London with her husband and daughters. erinkelly.co.uk twitter.com/mserinkelly