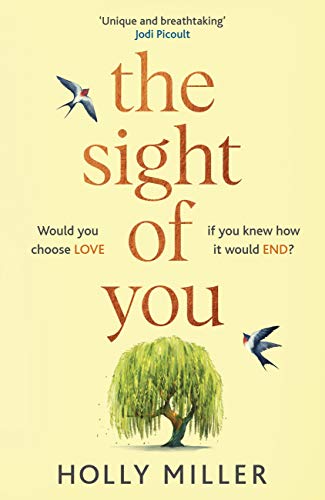 ShortBookandScribes #BookReview – The Sight of You by Holly Miller
I'm so pleased to be sharing my thoughts about The Sight of You by Holly Miller today. It fits perfectly with my penchant for stories of star-crossed lovers. My thanks to Becca Mundy from Hodder for sending me a proof copy of the book for review purposes. It's published on 11th June in ebook and hardcover.
---

---
Joel is afraid of the future.
Since he was a child he's been haunted by dreams about the people he loves. Visions of what's going to happen – the good and the bad. And the only way to prevent them is to never let anyone close to him again.

Callie can't let go of the past.
Since her best friend died, Callie's been lost. She knows she needs to be more spontaneous and live a bigger life. She just doesn't know how to find a way back to the person who used to have those dreams.

Joel and Callie both need a reason to start living for today.
And though they're not looking for each other, from the moment they meet it feels like the start of something life-changing.

Until Joel has a vision of how it's going to end . . .
---

---
The Sight of You is breathtakingly beautiful and easily one of my top reads of the year so far. I went to bed with around 100 pages left and read them in one go, sobbing for most of them. Holly Miller, you are a stunning writer.
This is the story of two people, Joel and Callie. Each are broken by events in their lives but the difference is that Callie believes she can be mended and Joel knows that he can't. For Joel experiences visions in his dreams, ones about the people he loves, and they come true. It's held him back all his life, prevented him from making connections with people, but when he meets Callie he is unable to control his feelings for her.
The author has pitched these two characters perfectly. I don't think any reader could fail to love them. Right from the off I cared about them, desperately hoping for the happy ending I didn't know if they could have. Their relationship is exquisite with more than a touch of melancholy, but despite that I had a smile on my face for much of the book. Their story is simultaneously uplifting and devastating.
The Sight of You is an amazing love story, but it's also about learning to live rather than simply surviving. I just couldn't leave it alone. I was addicted to the tenderness of Joel and Callie's feelings for each other, the intensity of their bond.
What would you do if you knew how your story would end? Would you want to know? I veered between a yes and a no throughout this book. It's such an innovative idea for a story, one which I think needed skill to make it work. But boy, in Miller's safe hands it worked. It's utterly perfect. I won't forget this book and how it made me feel. My heart is broken but my soul is enriched.
---
---
Holly Miller was born and grew up in Bedfordshire. Since university she has worked as a marketer, editor and copywriter. Holly currently lives in Norfolk with her partner and their dog.