ShortBookandScribes #BookReview – The Sewing Room Girl by Susanna Bavin
I'm sharing my thoughts today about The Sewing Room Girl by Susanna Bavin which I absolutely loved. My thanks to the author for very kindly sending me a copy of the book for review purposes.
---

---
1892. When her beloved father dies, Juliet and her mother, the difficult but vulnerable Agnes, are left to fend for themselves. When Agnes lands a job as a seamstress for a titled family, things appear to be looking up. But just as the pair begin to find their feet, Juliet finds herself defenceless and alone.

Without her mother to protect her, Juliet becomes the victim of a traumatic incident and is left to face an impossible dilemma. She flees to Manchester seeking support from her estranged family but comes up against her formidable grandmother, who is determined to bend Juliet to her will. It will take all Juliet's ingenuity to escape the clutches of her ruthless grandmother and make her own way in life.
---

---
I've spent a few happy days completely absorbed in The Sewing Room Girl and I genuinely didn't want to put it down as I followed Juliet through some very tough times in her life.
The book opens in 1892 when Juliet Harper is 15. The death of her father leaves her and her mother, Agnes, in dire straits but luckily Agnes is taken on as seamstress to Lady Drysdale. At first it seems that their luck is holding but a series of tragic and traumatic events leaves Juliet alone in the world. She runs away to seek out the grandmother she has never known but unfortunately that doesn't make her life any easier. Far from it, in fact.
Looking back, I can't believe how much was packed into the 400 or so pages of this story and yet Susanna Bavin never compromised on emotion, characterisation or detail. Poor Juliet has struggle upon struggle thrust upon her but what an amazing character she is. Every time she got knocked down I was thrilled to see her get back up again a little bit stronger than before. In the manner of all the best saga writers, Bavin puts her characters thoroughly through the wringer, only to lead them out again and maybe put them through it again!
I felt totally drawn into the story, not just of Juliet, but her friends and foes too. Whilst she meets some lovely, lifelong, friends, she also makes some wicked enemies, and all the characters are well-drawn and play an important part in the story which the author weaves together so well. There were quite a few surprises that I never saw coming at all, plenty of heartbreaking moments, and some that made me smile too. I really enjoyed the late 19th century setting, and Juliet's work as a seamstress. I could put myself right there with her as she designed and made garments, and went from a village setting to the bustling heart of Manchester.
The Sewing Room Girl is an absolutely brilliant and compelling read that I didn't want to come to an end. I highly recommend it for all saga lovers.
---
---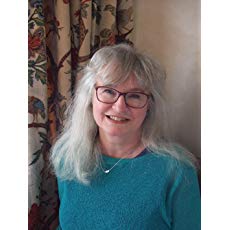 Susanna Bavin lives on the beautiful North Wales coast with her husband and their two rescue cats. She is originally from Chorlton-cum-Hardy in Manchester, where her family has lived for several generations and which provides the setting for her family sagas.
Susanna Bavin also writes as Polly Heron.