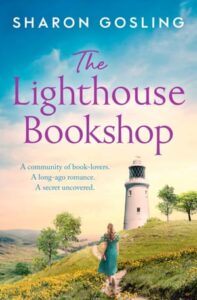 ShortBookandScribes #BookReview – The Lighthouse Bookshop by Sharon Gosling
The Lighthouse Bookshop by Sharon Gosling was published on 18th August by Simon & Schuster in paperback, eBook and audiobook.
My thanks to SJ Virtue from whom I was lucky enough to win a copy of the book through one of her fabulous giveaways.
---

---
At the heart of a tiny community in a remote village just inland from the Aberdeenshire coast stands an unexpected lighthouse. Built two centuries ago by an eccentric landowner, it has become home to the only bookshop for miles around.

Rachel is an incomer to the village. She arrived five years ago and found a place she could call home. So when the owner of the Lighthouse Bookshop dies suddenly, she steps in to take care of the place, trying to help it survive the next stage of its life.

But when she discovers a secret in the lighthouse, long kept hidden, she realises there is more to the history of the place than she could ever imagine. Can she uncover the truth about the lighthouse's first owner? And can she protect the secret history of the place?
---

---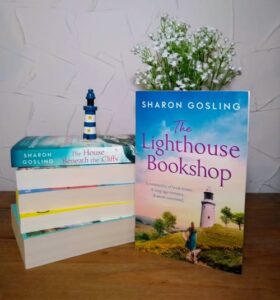 A lighthouse and a bookshop? In the same book? What a perfect combination. Somewhat strangely, the lighthouse in this story does not serve to provide help to those at sea as it stands inland. The mystery of why it's there is a huge part of the story and I thought it was a rather wonderful tale that I could never have guessed at and which unfolds throughout the whole book.
Rachel runs the bookshop in the lighthouse. An incomer to the village of Newton Dunbar, she's made her home there and some excellent friends too. The characters in this book are all beautifully drawn and make up a delightful (with one notable exception), and somewhat eclectic, community. However, the sudden death of the owner of the bookshop means that Rachel might have to find herself a new job and a new home. But before that, she has to unravel the secrets of the tower.
Having loved Sharon Gosling's first book, The House Beneath the Cliffs, The Lighthouse Bookshop was high on my list of books I was looking forward to. I wasn't disappointed and found myself enjoying another gorgeous story of a tight-knit community, a small and remote location, and a challenge to be overcome. I was also pleased to read a nod to that first book in this one, with the Crovie Inn making a cameo appearance.
Gosling is a fantastic writer, creating characters and locations that I really cared about, and weaving them into a story that I enjoyed very much. Whilst a fairly easy read, The Lighthouse Bookshop refers to some difficult subjects and a historical thread that is very moving. I thought it was a perceptive book full of warmth, friendship and discoveries.
---
---
Sharon started her career as an entertainment journalist, writing non-fiction books about film and television. She is also the author of multiple children's books. Sharon and her husband live in a small village in northern Cumbria. She can be found on Twitter @sharongosling.