ShortBookandScribes #BookReview – The Language of Food by Annabel Abbs
My review today is of the absolutely gorgeous The Language of Food by Annabel Abbs. My thanks to SJ from Simon & Schuster for the very pretty proof copy. It will be published on 3rd February in hardcover, eBook and audiobook.
---

---
England 1835. Eliza Acton is a poet who dreams of seeing her words in print. But when she takes her new manuscript to a publisher, she's told that 'poetry is not the business of a lady'. Instead, they want her to write a cookery book. That's what readers really want from women. England is awash with exciting new ingredients, from spices to exotic fruits. But no one knows how to use them

Eliza leaves the offices appalled. But when her father is forced to flee the country for bankruptcy, she has no choice but to consider the proposal. Never having cooked before, she is determined to learn and to discover, if she can, the poetry in recipe writing. To assist her, she hires seventeen-year-old Ann Kirby, the impoverished daughter of a war-crippled father and a mother with dementia.

Over the course of ten years, Eliza and Ann developed an unusual friendship – one that crossed social classes and divides – and, together, they broke the mould of traditional cookbooks and changed the course of cookery writing forever. 
---

---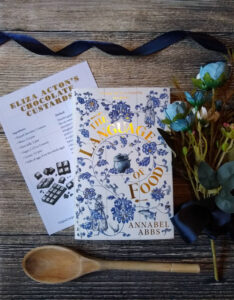 'A recipe can be as beautiful as a poem' and indeed Annabel Abbs' writing and her portrayal of two strong women in The Language of Food is as beautiful as anything I've ever read.
I feel like I should have heard of Eliza Acton but for me her contribution to cookery writing was lost in the mists of time…until now. I'm so pleased to have read this book and to have been able to find out more about this remarkable woman, who was ahead of her time.
Eliza was a published poet with a second collection already prepared when she was told by a prospective publisher that what they really needed from her was a cookery book. She was no cook and a woman of her status would not expect to spend any time in the kitchen, but she rose to the challenge with the help of a young maid by the name of Ann Kirby. There is so much that is wonderful about this book and one of the things that stood out was the unexpected friendship and companionship that builds between the two women. There is a perfect blend of fact and fiction (not much was known about Ann) and whilst Eliza is based on many known facts, Annabel Abbs has weaved her narrative around them without compromising on good storytelling.
The book that Eliza eventually wrote was trailblazing and I loved every word that described the food and the way it was prepared and cooked (maybe with the exception of the eel!). There is such delight in the characters' accomplishments and although I found myself wishing for scratch and sniff pages, Abbs does a tremendous job at illustrating the feelings, sounds and smells of the kitchen through her written words.
This is not just a story of cookery writing though, but also one of the constraints placed on women in the 19th century, and the contrast between the poor and those who had a higher place in society. In alternating chapters from each woman's point of view we are able to see each battle with their own place and status. I think The Language of Food is an outstanding book, staying faithful to the truth whilst giving the reader a truly absorbing read. It is beautiful inside and out and will be one of my favourite reads of the year.
---
---
Annabel Abbs is the new rising star of biographical historical novels. She grew up in Bristol, Sussex and Wales before studying English Literature at the University of East Anglia and Marketing at the University of Kingston. Her debut novel The Joyce Girl was a Guardian Reader's Pick and her second novel Frieda: The Original Lady Chatterley earned critical acclaim including Times 2018 Book of the Year. She regularly appears on national and regional media, with recent appearances on Radio 4 Woman's Hour and Sky News, and is popular on the literary festival circuit. She was longlisted for the Bath Novel Award, the Caledonia Novel Award and the Waverton GoodRead Award. Annabel lives in London with her husband and four children.