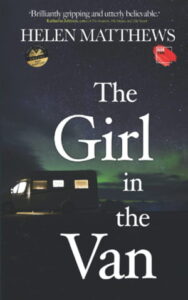 ShortBookandScribes #BookReview – The Girl in the Van by Helen Matthews
The Girl in the Van was published earlier this year by Darkstroke Books and is available in paperback and eBook. My thanks to the author who sent my copy for review.
---

---
A tormented mother. An abandoned girl. A deadly game of survival.

What happened to Ellie?

Traumatised by events, Ellie's mother, Laura, can't bear to stay in the Welsh seaside town where she lives with her partner, Gareth. She escapes to London, breaking all ties with him, and refusing to tell anyone her new address.

After two years of living alone and working in a mundane job, Laura buys an old campervan and joins a singles holiday. Here, she meets Miriana, a teenage girl who bears a chilling resemblance to Ellie. As Laura uncovers Miriana's story, she's shocked by the parallels to her own life.

But stories can be dangerous, and someone out there will stop at nothing to prevent the truth about Ellie from coming out…
---

---
The Girl in the Van begins with Laura travelling in her campervan to Wales from London for a singles holiday. Laura is familiar with the area as it's where she lived until a traumatic event involving her daughter, Ellie, made her leave everything behind. This holiday sets in motion a series of unexpected and disturbing situations for Laura when she meets a girl named Miriana who reminds her very much of Ellie. Miriana has her own harrowing story to tell and Laura starts to see similarities with Ellie.
This book comes across from the cover and blurb as a psychological thriller and at times I would describe it that way but much of it is more in the realms of a domestic drama and I really liked that about it. In fact, I very much enjoyed how Laura's home life, both in the past in Wales and in the present in London, kept offering the psychological thriller hints that eventually came to the fore in the last quarter or so of the book.
Helen Matthews is a fantastic writer, making this a compelling story of a lost girl, and the parents who were lost without her, alongside that of another young girl who finds herself cast adrift and struggling to survive. The plotting is genius, especially with regard to that ending I mentioned which I really didn't see coming at all. In fact, I was starting to pin things on at least two other characters.
There are some big issues contained within this story and I feel like they were things that the author really cared about. I've read Matthews before and she excels at taking important and relevant topics and portraying them sensitively and sympathetically.
I highly recommend The Girl in the Van. I found myself eager to get back to it to see what would happen next. A gripping and emotive read.
---
---
Helen Matthews writes page-turning psychological suspense and is fascinated by the darker side of human nature and how a life can change in an instant. Her latest novels, both published in 2022, are Girl Out of Sight and The Girl in the Van, (shortlisted in the Pageturner Book Award) published by Darkstroke Books. Earlier novels include 'After Leaving the Village' ​which won first prize in the opening pages category at Winchester Writers' Festival; 'Lies Behind the Ruin' – contemporary suspense and domestic noir, set in France and 'Facade' published by Darkstroke Books. A fifth book is in progress. Her short stories have been shortlisted by Flash 500, 1000K Story and published in Artificium; in the Reflex Press anthology 'The Real Jazz Baby'; in EllipsisZine and in Love Sunday magazine. She has published an eBook collection of stories and travel writing 'Brief Encounters' and this is available on Amazon. Helen regularly gives talks and appears at events and literary festivals. She holds an MA in Creative Writing from Oxford Brookes University.
Follow her on Twitter: @HelenMK7
Instagram @helen.matthews7
Facebook.com/HelenMK7Writer