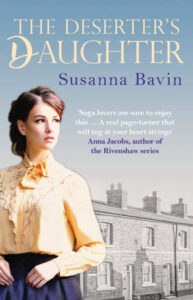 ShortBookandScribes #BookReview – The Deserter's Daughter by Susanna Bavin
My review today is of The Deserter's Daughter by Susanna Bavin. My thanks to the author for sending me a copy of the book for review purposes. Having already read and loved The Sewing Room Girl, I thought I would love this one too and I wasn't wrong.
---

---
Manchester, 1920. Carrie Jenkins reels from the revelation that her beloved father was shot for desertion during the Great War. Jilted, and with the close-knit community turning its back on her as well as her mother and her half-sister Evadne, the plans Carrie nurtured are in disarray. Desperate to overcome private shock and public humiliation, and with her mother gravely ill, Carrie accepts the unsettling advances of Ralph Armstrong and Evadne also meets Alex Larter. But both sisters put their faith in men who are not to be trusted, and they will face danger and heartache before they can find the happiness they deserve.
---
---
The Deserter's Daughter is a title that immediately captured my imagination. Set in 1920, the First World War is a very recent memory and it's Carrie Jenkins who finds out that she is the daughter of the title. It's the work of a moment to take her father from war hero to a deserter and it ostracises her and her family from their community.
We know so much now about the war and its effects on the men who fought in it, but at the time emotions ran so high that shell shock was thought of as cowardly behaviour. Because of her family's new status Carrie finds herself gravitating towards Ralph Armstrong, a man who can help her but who is not a good man.
I found this to be such a compelling read, following Carrie as she falls further and further into a murky world of which she knows nothing. Whilst this is very much a saga, there are aspects of a psychological thriller about it, with themes of manipulation, and emotional and physical abuse. Carrie is a thoroughly likeable character, only 20 and with so much on her shoulders, looking after her mother and having an older sister who thinks she's a cut above, and I found her story moving and emotional.
Ralph is a brilliant villain of the piece. I had to smile sometimes as he was just so well-written and his thoughts so barbed. To temper this there are some absolutely lovely characters too and I was particularly fond of kind Mr Weston, who worked at the antiques shop.
I enjoyed the settings from the small Manchester community where the Jenkins family live to the auction rooms and antiques shops that Ralph manages and the large hospital where his doctor brother works trying to help men who were badly affected by the war.
The Deserter's Daughter is an excellent read which transported me to 1920s Manchester. There's heartbreak aplenty but lots of warmth too.
---

---
Susanna Bavin also writes as Polly Heron (The Surplus Girls 1920s saga series) and Maisie Thomas (The Railway Girls WW2 saga series)
Susanna lives on the beautiful North Wales coast with her husband and their two rescue cats. She is originally from Chorlton-cum-Hardy in Manchester, where her family has lived for several generations and which provides the setting for her family sagas.