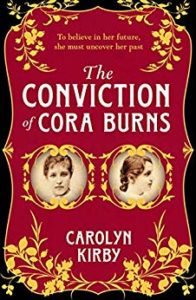 ShortBookandScribes #BookReview – The Conviction of Cora Burns by Carolyn Kirby @novelcarolyn @noexitpress #RandomThingsTours #BlogTour
I'm over the moon to be able to review this fabulous book today as part of the blog tour. My thanks to Anne Cater from Random Things Tours for the place on the tour and to Katherine from No Exit Press for sending me a copy of the book for review purposes.
---
To believe in her future, she must uncover her past…

Birmingham, 1885.

Born in a gaol and raised in a workhouse, Cora Burns has always struggled to control the violence inside her.

Haunted by memories of a terrible crime, she seeks a new life working as a servant in the house of scientist Thomas Jerwood. Here, Cora befriends a young girl, Violet, who seems to be the subject of a living experiment. But is Jerwood also secretly studying Cora…?

With the power and intrigue of Laura Purcell's The Silent Companions and Sarah Schmidt's See What I Have Done, Carolyn Kirby's stunning debut takes the reader on a heart-breaking journey through Victorian Birmingham and questions where we first learn violence: from our scars or from our hearts.
---

Oh, Cora. Your story is simply wonderful. I enjoyed every single second I spent reading it.
Cora got off to a bad start in life. She was born in gaol and then ended up in a workhouse, but she never knew any different. Is it any wonder though that she has an anger inside of her that she can hardly control? After committing a terrible crime and returning to gaol, she is eventually released and finds herself working as a 'tweeny' at the house of Thomas Jerwood, a scientist conducting experiments into likenesses and considering the effects of nature/nurture. But his motives are dubious and the young girl, in Jerwood's care, Violet, further raises Cora's suspicions.
There is so much more to this book that at first meets the eye. The story is as multi-layered as an onion and I thought the author did an amazing job at plotting Cora's journey through life. Most of the story is set in 1885 when Cora is released at the age of 20, and by then she has experienced unimaginable things, even by the standards of the harsh Victorian times. We are also sent back into Cora's childhood in the workhouse, to 1874 and we see what has shaped her into the young woman she has become.
Make no bones about it, Cora is not always an easy person to like. As mentioned before, she has an anger that tends towards violence and life has made her hard around the edges. Yet despite this, her character is written in a sympathetic way and I felt so incredibly sorry for the life that she had endured.
And so we follow Cora through a year or so of her life. Will she come out the other end triumphant or back where she started? All I can say is: 1. the ending is absolutely perfect and 2. go and read it for yourself!
The Conviction of Cora Burns is a fantastic read, absolutely dripping with atmosphere. I could almost imagine myself in Victorian Birmingham, with the smells and sights of the time being quite vivid in my mind. This book is a triumph and makes me want to read more Victorian fiction, particularly the kind set in asylums and prisons – not sure what that says about me! Thank you, Carolyn Kirby, for allowing me to step into Cora's world, however briefly. I wouldn't have missed it for anything.
---

---

Originally from Sunderland, Carolyn Kirby studied history at St Hilda's College, Oxford before working for social housing and then as a teacher of English as a foreign language. Her novel The Conviction of Cora Burns was begun in 2013 on a writing course at Faber Academy in London. The novel has achieved success in several competitions including as finalist in the 2017 Mslexia Novel Competition and as winner of the inaugural Bluepencilagency Award. Carolyn has two grown-up daughters and lives with her husband in rural Oxfordshire.