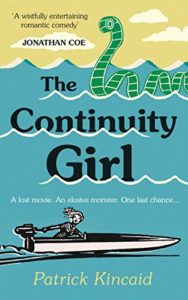 ShortBookandScribes #BookReview – The Continuity Girl by Patrick Kincaid
I'm delighted to be sharing my review of The Continuity Girl by Patrick Kincaid today. My thanks to the author for the review copy. The book was published by Unbound and you can read a bit more about then here.
---
1969. Hollywood descends on a tiny Scottish village for the making of Billy Wilder's most ambitious picture yet: a sprawling epic detailing The Private Life of Sherlock Holmes. But the formidable director and his crew soon come into conflict with Jim Outhwaite, a young scientist seeking evidence for monsters.

2014. Stuck just a short walk from the East London street where she grew up, ambitious Film Studies lecturer Gemma MacDonald is restless and hungry for change. A job offer in the Highlands seems to offer escape – but only at a cost to her relationships with family and an equally ambitious American boyfriend.

Then a lost print of Gemma's favourite film turns up, and with it, an idea…
Two stories, separated by 45 years, are set on collision course – on the surface of Loch Ness, under the shadow of a castle – by the reappearance of the continuity girl herself: April Bloom.

"A wistfully entertaining romantic comedy spanning forty years of social and cinematic history, which offers an homage to one of Billy Wilder's greatest films and does it proud." – Jonathan Coe
---

The Continuity Girl had an immediate appeal for me. It's set in two different times and mostly in Scotland. For the most part, we're there in 1969 following Jim, a young man looking for evidence of the Loch Ness Monster. Jim is a scientist and part of the LNRG (Loch Ness Research Group). The presence of a film crew causes Jim a bit of consternation until he becomes friends with April, the continuity girl of the title.
Fast forward to 2014 and we have Gemma, a doctor in Film Studies whose favourite film happens to be The Private Life of Sherlock Holmes, the very one they were filming on the banks of Loch Ness in 1969. When a director's cut of the film turns up,  Gemma is thrilled by it. She takes herself off to Loch Ness and a series of events brings April into her life.
There was much that I liked about The Continuity Girl. I enjoyed the details of the film and the actors. The Private Life of Sherlock Holmes is a real film and so I imagine that the details were factually correct. Certainly, I recognised some of the actors' names. I particularly liked Jim and the relationships between him and his fellow LNRG members. The dynamic was fascinating as they lived together in the same house and had different priorities with regard to their work. Jim has a lot of integrity and it was nice to see him being able to loosen up around April and her colleagues.
I also liked Gemma a lot. The two stories are essentially ones that are completely separate with one crossover section and Gemma's story is more about bringing the past and present together. I did wonder if some of the sections about her family were a bit superfluous but I guess she needed to be padded out in some way otherwise her role would have been simply been to facilitate events in 2014 and that would have been a shame. Her sections are most definitely secondary to the main story though.
This book has a quote on the front calling it a romantic comedy. I'm not sure I would describe it in that way, but it does have elements of both romance and humour – I think I would have like a little more romance personally. But more so it's a snapshot in time looking at a period before the commercialism of the Loch Ness Monster set in, and at the filming of a Billy Wilder film.
Overall, I thought this was an engaging and entertaining read. It's a little bit quirky and I liked the fact that the focus was a bit different. The use of a real film made it really interesting and it's very well-written.
---

Like April in the novel, Patrick is an Anglo-American. He was born to an English mother in Amarillo, Texas, but moved to the UK when his American father was stationed in Oxfordshire with the USAF in the mid-1970s. Unlike his older brother, Patrick was sent to a local rather than a base school, and very quickly went native. He eventually gained a PhD in English Literature at the Shakespeare Institute in Stratford-upon-Avon. For the past 14 years, he has taught English to secondary school children in an inner-city comprehensive in Coventry.
Long a fan of Sir Arthur Conan Doyle's Sherlock Holmes stories, Patrick contributed one of his own, 'The Doll and His Maker', to MX Publishing's SHERLOCK'S HOME: THE EMPTY HOUSE, an anthology of pastiches put together to raise funds for the preservation of one of the author's former homes. As well as writing fiction, Patrick is a keen poet. He was short-listed for the Bridport Poetry Prize in 2012 and long-listed for the Fish Poetry Prize in 2013.
Author image and bio taken from Amazon