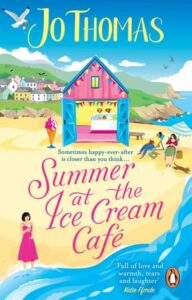 ShortBookandScribes #BookReview – Summer at the Ice Cream Café by Jo Thomas
Summer at the Ice Cream Café by Jo Thomas is published by Transworld and is out now in ebook and on 8th June in paperback and audiobook. My thanks to Becky Hunter for the proof copy.
---

---
A dream home
Beca Valentino is ready to escape the city. When she sees the perfect house for sale in her hometown, it seems like fate. Is this her chance to build the foster family she dreams of, on the beautiful Pembrokeshire coast?

A big mistake?
Returning home isn't as easy as she thought, however. Her family's beloved ice cream café is gone – turned into a soulless wine bar by her hateful ex-boyfriend. Reconnecting with her oldest friend, fisherman Griff, isn't straightforward either. And when, instead of the children she expected to take in, two wary teenage boys appear on her doorstep, Beca fears she's made a terrible mistake.

A recipe for change
But an old family recipe book is just the inspiration she needs. Soon, with a little help from friends old and new, Beca is selling mouth-watering homemade gelato from a pop-up café on the beach.

Then disaster strikes. Will the Valentino family legacy be lost forever? Or can Beca create a new recipe for happiness?
---

---
Beca Valentino left her childhood home town in West Wales years ago but is now ready to come home. She manages to buy a house she always liked and decides to foster children. When she was young her Italian grandparents owned an ice cream café and Beca's childhood memories are entwined with it so to see it's been taken over and made into a wine bar really niggles at her. A chance situation, her Nonna's old recipes and the help of friends, old and new, see Beca turning her hand to making gelato of her own.
I absolutely adored this book, just completely loved it. Jo Thomas always sells me a dream in her stories but this one in particular felt like I was there with the characters and could so easily imagine the town, the beach, the whole set-up. I really enjoyed the ice cream making and the pop up café that Beca sets up. I found myself wishing it was real and I could stroll along the cliff path and stop for a delicious treat. There were so many delectable flavours on offer!
It's not all about the gelato though. This is Beca's homecoming and it's not always easy. Small town gossips struggle to accept her as a local but equally so, she's not one of the incomers, the second-home owners from the city. Her old friend, Griff, is a big help to her and I thought he was a fabulous character. I also loved the boys Beca ends up fostering.
The whole feel of this book was just delicious and I felt like I could have read on forever but all good things do need to come to an end. As always, I closed it with a sense of not only satisfaction, hunger and wanderlust, but knowing that I'd spent my time reading something that utterly captivated me and transported me thoroughly to my literary destination. Summer at the Ice Cream Café is actual perfection and I loved every bit of it.
---
---
Jo Thomas worked for many years as a reporter and producer, including time at Radio 4's Woman's Hour and Radio 2's The Steve Wright Show.
Jo's debut novel, The Oyster Catcher, was a runaway bestseller and won both the RNA Joan Hessayon Award and the Festival of Romance Best eBook Award. Her recent book Escape to the French Farmhouse was a #1 bestselling eBook and in every one of her novels Jo loves to explore new countries and discover the food produced there, both of which she thoroughly enjoys researching. Jo lives in Pembrokeshire with her husband and three children, where cooking and gathering around the kitchen table are a hugely important and fun part of their family life.