ShortBookandScribes #BookReview – Shiver by Allie Reynolds
I'm sharing my thoughts about Shiver by Allie Reynolds today. I think this book will be huge in 2021. My thanks to Alara Delfosse from Headline for my gorgeous proof copy of the book for review purposes which will be published in hardback, ebook and audiobook on 21st January.
If my review gets you excited about reading Shiver (if you're not already!) then check back here on Wednesday when I'll be piquing your interest even more with an extract and……drum roll please……giving away a limited edition numbered proof!!!
---

---
They don't know what I did. And I intend to keep it that way.

How far would you go to win? Hyper-competitive people, mind games and a dangerous natural environment combine to make the must-read thriller of the year. Fans of Lucy Foley and Lisa Jewell will be gripped by spectacular debut novel Shiver.

When Milla is invited to a reunion in the French Alps resort that saw the peak of her snowboarding career, she drops everything to go. While she would rather forget the events of that winter, the invitation comes from Curtis, the one person she can't seem to let go.

The five friends haven't seen each other for ten years, since the disappearance of the beautiful and enigmatic Saskia. But when an icebreaker game turns menacing, they realise they don't know who has really gathered them there and how far they will go to find the truth.

In a deserted lodge high up a mountain, the secrets of the past are about to come to light.
---

---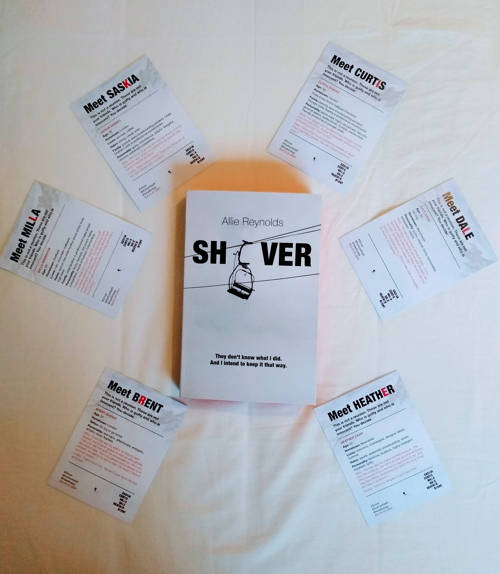 Shiver is the second book I've read this year that is set on the snowy mountains and it's really whetted my appetite for more of this kind of book. The setting is so menacing, so liable to turn at a moment's notice from something pleasant and fun to something life-threatening.
Shiver focuses on the snowboarding community of athletes competing to be the best in the French Alps. Ten years ago there were six of them but Saskia disappeared and now five are meeting up again, apparently for old times sake. However, it turns out that is not the case and somebody is out to punish them, play games with them and completely unsettle them.
The story is told by Milla, a promising snowboarder ten years ago, but like the others, the events back then have taken their toll on her life and she's been drifting ever since. The chance to meet up again with Curtis (Saskia's brother), Brent, Dale and Heather again is too good to miss, and not only that, she can get out on the snow again.
Milla is an engaging protagonist. It was interesting to see events both now and then through her eyes, particularly as she's very competitive and Saskia was her bête noire. In fact, all the characters are well-drawn, some more likeable than others, and whilst a healthy dose of competition is fine, sometimes it went further than that. What did really happen to Saskia?
The setting is absolutely perfect. Out of season, the gang find themselves in a deserted resort, with more and more sinister goings-on occurring. I felt quite shivery myself at times as I felt chills go down my spine. Did you know that glaciers give up bodies at a certain time every year, sometimes years after a person has gone missing? I have to say I'm feeling quite glad I'm not into snow sports!
Shiver is a fast paced and exciting thriller with tight plotting that allows the story to unfold organically, linking what happened in the past to what is happening in the current day storyline. It looks set to be one of 2021's big hitters and rightly so. It's tense, thrilling and a genuinely chilling locked room mystery, with what I thought was a really clever ensemble piece denouement.
---
---
---
Allie Reynolds is the author of the thriller SHIVER, which will be published in January 2021.
Born and raised in Lincoln, England, she moved to Australia in 2004. She lives on the Gold Coast with her two young boys and a cat who thinks he's a dog.
Many years ago she competed at snowboard halfpipe. She spent five winters in the mountains of France, Switzerland, Austria and Canada. These days she sticks to surfing – water doesn't hurt as much as ice when you fall on it.
Her first ever job was a Saturday job in a bookstore, at age 14. She taught English for many years and became a full-time writer in 2018.