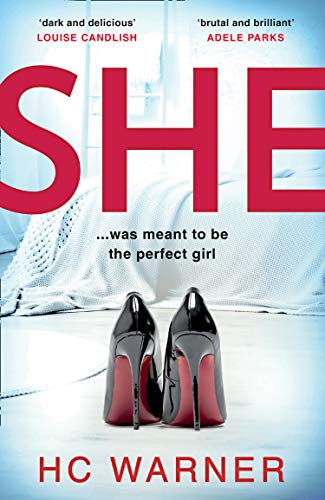 ShortBookandScribes #BookReview – She by HC Warner @HQStories #BlogTour #WhoIsSHE
Welcome to my stop on the blog tour for She by HC Warner. I'll be sharing my thoughts with you today. My thanks to Jess at HQ for the place on the tour and for sending a fabulous proof copy of the book for review purposes (you read about a third and then turn the book round and start again from the beginning – so clever!!).
---
She's everything he dreamed of. Isn't she?

Ben can't believe his luck when Bella walks into his life, just when he needs her most. Sexy, impulsive and intelligent, Bella is everything he ever wanted. And Bella wants him. All to herself.

In fact, Bella decides that everything is better when it is just the two of them, making it harder for Ben's friends and family to stay in touch. And then a sudden tragedy triggers a chain of events which throws Ben headlong into a nightmare.

Secrets, lies, vengeance and betrayal are at the heart of this utterly twisted story about a family that is destroyed when SHE becomes part of it…
---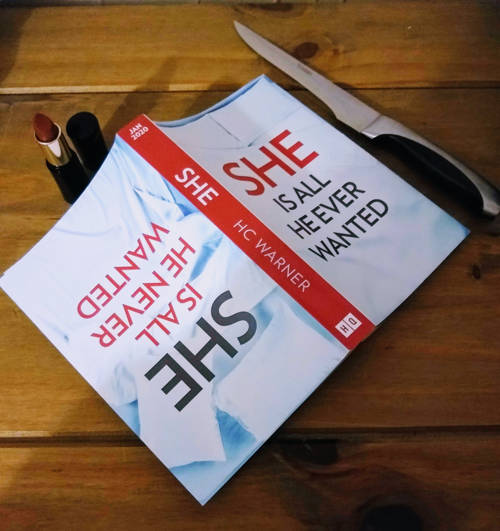 I really enjoyed She, a multi-stranded psychological thriller/family drama.
Ben meets Bella. He's on the rebound from a long term relationship that has ended when she sets her sights at him one night. She's stunningly beautiful and Ben can't quite believe his luck. But if something seems too good to be true then it often is and Bella is a woman that gets what she wants, at whatever cost.
The story is told in four parts and in different tenses and I liked this device as a way of showing the unfolding events from different perspectives. Much of the story is more of a dark story of control, family problems and the like, rather than a traditional thriller. I do enjoy reading about family dynamics and there are plenty going on in this novel, along with a look at how friendships can change too.
I'm being careful not to give too much away. There was a real surprise at one point and I thought the author did a great job at keeping things bubbling away under the surface until she was ready to reveal them. This is quite the twisted and intense tale, with events that are often rather unpleasant to read about. The characterisations are strong and Bella in particular is a fantastic character who makes me shiver to even think about her. Seeing into her mind was not a nice thing to do!
She is an incredibly easy and quick read, despite the dark subject matter. If you want a family led thriller that will pull you right into the heart of the action then this is perfect. I enjoyed it a lot.
---

---

Helen Warner is a former Head of Daytime at both ITV and Channel 4, where she was responsible for a variety of TV shows including Come Dine With Me, Loose Women, Good Morning Britain and Judge Rinder.
Helen writes her novels on the train to work in London from her home in Essex, which she shares with her husband and their two children.