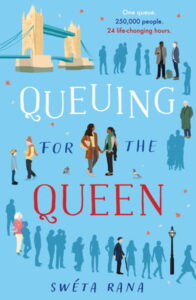 ShortBookandScribes #BookReview – Queuing for the Queen by Swéta Rana
Queuing for the Queen by Swéta Rana is published by Head of Zeus and is available now in paperback and ebook. My thanks to Amy Watson for the proof copy.
---

---
One queue. 250,000 people. Twenty-four life-changing hours.

A young boy wearing a cereal box crown, impatiently dragging his mother behind him.

A friendly man in a khaki raincoat, talking about his beloved Leeds United to anyone who will listen.

An elderly woman who has lived her life alongside the Queen, and is just hoping she'll make it to the end of the queue to say goodbye.

And among them, a British Indian mother and daughter, driven apart by their differences, embarking on a pilgrimage which neither of them yet know will change their lives forever.

Full of secrets and surprises, this uplifting novel celebrates not only the remarkable woman who defined an era and a country, but also the diverse and unique people she served for so long.
---

---
The title of this book sold it to me immediately. As a royalist and somebody who was fascinated by the size of the queue to pass our late Queen's coffin I just had to read it.
We follow the queue hour by hour over the course of a day, each chapter covering an area of London along the way. Whilst the people in the queue are pivotal to the story, this book is mainly about mother and daughter, Rani and Tania, their fractured relationship and how being in the queue together helps the fracture to heal. Interspersed throughout are chapters about Rani's life over the years from her early childhood in India and then later when her family moved to England, and then she got married and had Tania. I really enjoyed Rani's story and her culture and background was very interesting to me.
This book is a lovely read about mother/daughter relationships, not just Rani and Tania but also Rani and her own mother. There are some fabulous characters in the queue too, particularly veteran Harold, and young royalist Owen. There's a lot of camaraderie in the queue and strangers quickly become friends. It felt very true to what I imagine it must have been like to stand there in line waiting to pay respects to a long-standing and much respected monarch.
Queuing for the Queen is a delightful debut, sensitive and thoughtful, with a mixture of uplifting joy and moving scenes. I shall be sure to look out for Swéta Rana's next book.
---
---
Swéta Rana was born into a Gujarati family in Birmingham, and now lives in south London. She studied Philosophy and Theology at Oxford before doing a Master's in Publishing at UCL. After working briefly in editorial at Orion, she moved into designing and managing commercial websites.
Swéta has enjoyed writing ever since she was a child, always taking any opportunity she can to write fiction pieces, film reviews, or articles on Indian culture. Queuing for the Queen is her first novel.
In her spare time, Swéta takes Hindi language classes, sings soprano in a chamber choir, and volunteers for a mental health charity.