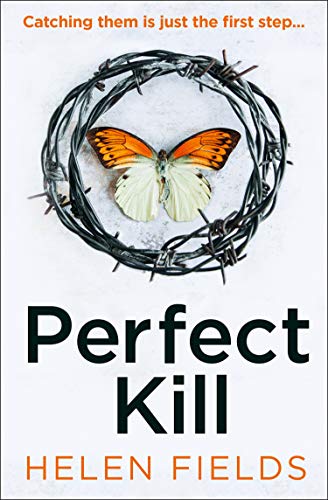 ShortBookandScribes #BookReview – Perfect Kill by Helen Fields @AvonBooksUK #BlogTour
Here we are with another brilliant instalment in this series of books by Helen Fields. My thanks to Avon Books for the place on the tour and for sending a copy of the book for review purposes.
---

He had never heard himself scream before. It was terrifying.

Alone, trapped in the darkness and with no way out, Bart Campbell knows that his chances of being found alive are slim.

Drugged and kidnapped, the realisation soon dawns that he's been locked inside a shipping container far from his Edinburgh home. But what Bart doesn't yet know is that he's now heading for France where his unspeakable fate is already sealed…

DCI Ava Turner and DI Luc Callanach are working on separate cases that soon collide as it becomes clear that the men and women being shipped to France are being traded for women trafficked into Scotland.

With so many lives at stake, they face an impossible task – but there's no option of failure when Bart and so many others will soon be dead…
---
I love the 'Perfect' series of books by Helen Fields. They're books that I jump at reading. I don't care what they're about, I just know I want to read them. Perfect Kill is book six and it's one of the best in the series, if not the best, in my opinion. If you've read my reviews of the previous books in the series you'll know I also have a teeny (huge) crush on DI Luc Callanach, who actually seems to be pretty much perfect in every way.
After the events of book five, Callanach is in France working for Interpol, whilst DCI Ava Turner is still working in Scotland. However, their cases collide when a dead man is found in France who seems to be linked to a case Ava is working on. This book is an incredibly exciting read with two storylines that had me absolutely on the edge of my seat at times. My heart was in my mouth as each incredibly well-plotted strand came to a conclusion.
The book covers human trafficking and organ harvesting and it seems wrong to say I enjoyed it but I certainly found it utterly compelling and difficult to put down. I was also moved by the horrendous nature of the events I was reading about, although there were one or two smiles too, mostly at the expense of DS Lively, a valued member of Turner's team, but often the butt of jokes.
Callanach and Turner have a very complicated relationship. I love this pair and all their foibles. I feel almost like I know them. I've been through so many ups and downs with them throughout the course of the series. The author's next book is a standalone story so I'm hoping it's not the last we see of these characters but if it is then it's been a pleasure to share their stories with them.
Helen Fields is a versatile and talented author and Perfect Kill is quite possibly the Perfect Crime Novel. It's heart-stoppingly good and completely exhilarating. What a ride!
---

---

An international and Amazon #1 best-selling author, Helen is a former criminal and family law barrister. Every book in the Callanach series claimed an Amazon #1 bestseller flag. Her next book, the sixth in the series, 'Perfect Kill' was published on 6 February 2020. Helen also writes as HS Chandler, and last year released legal thriller 'Degrees of Guilt'. Her previous audio book 'Perfect Crime' knocked Michelle Obama off the #1 spot. Translated into 15 languages, and also selling in the USA, Canada & Australasia, Helen's books have won global recognition. Her first historical thriller 'These Lost & Broken Things' comes out in May 2020. A further standalone thriller published by HarperColllins will come soon. She currently commutes between Hampshire, Scotland and California, where she lives with her husband and three children.