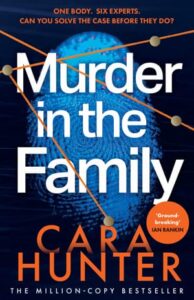 ShortBookandScribes #BookReview – Murder in the Family by Cara Hunter
Murder in the Family by Cara Hunter is published by Harper Collins and is out now in paperback, ebook and audiobook. My thanks to Susanna Peden for the proof copy.
---

---
IT WAS A CASE THAT GRIPPED THE NATION
LUKE RYDER'S MURDER HAS NEVER BEEN SOLVED

In December 2003, Luke Ryder was found dead in the garden of the family home in London, leaving behind a wealthy older widow and three stepchildren. Nobody saw anything.

Now, secrets will be revealed – live on camera.

Years later a group of experts re-examine the evidence on Infamous, a true-crime show – with shocking results. Does the team know more than they've been letting on?

Or does the truth lie closer to home?

Can you solve the case before they do?
The truth will blow your mind.
---

---
I went through a range of feelings about Murder in the Family, Cara Hunter's first standalone novel.
Ooh, a new Cara Hunter! I love her books, I must read this one.
It's arrived! Oh, it's all in the form of a transcript. Interesting, I'll look forward to reading it.
Picked it up to read. Hmm, I honestly don't know if I'm going to like this format.
Got stuck in and once I got used to the format I found I really enjoyed it.
I'm saying all this so that if you think you might not like the format, hopefully you'll still give it a go as the author's fantastic writing shines through.
Murder in the Family is about a cold case from twenty years ago. Guy Howard's stepfather, Luke Ryder, was murdered at the family home. Now Guy is the director of a new TV series that brings together a group of experts in their fields (journalist, lawyer, psychologist, retired police officer and investigators) to try and solve the mystery of what happened to Luke and who killed him.
Having read Hunter's Fawley series I know she likes to include transcripts, newspaper articles, forum chats and similar in her stories. This book is almost completely made up of the transcripts of each episode of the TV show and it did make it a little harder for me to engage with the characters. However, Hunter's trademark twisty style quickly comes into play and I found myself getting more and more engrossed as I turned the pages and learned what each expert thought and had discovered.
This isn't a format that is easy to pull off as a novel and a work of fiction so bravo to the author. There are cliff-hangers galore and it would translate brilliantly straight onto the screen. One for both true crime fans and murder mystery lovers.
---
---
Cara Hunter is the author of the Sunday Times bestselling crime novels Close to Home, In the Dark, No Way Out, All the Rage, The Whole Truth and Hope to Die, all featuring DI Adam Fawley and his Oxford-based police team. Close to Home was a Richard and Judy Book Club pick (as is her latest) and was shortlisted for Crime Book of the Year in the British Book Awards 2019. No Way Out was selected by the Sunday Times as one of the 100 best crime novels since 1945. Cara's novels have sold over a million copies worldwide, and the TV rights to the series have been acquired by the Fremantle group. She lives in Oxford. Murder in the Family is her first stand-alone crime novel. The Fawley series will also continue.