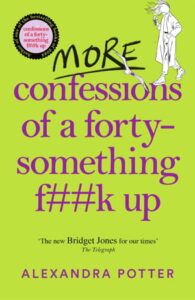 ShortBookandScribes #BookReview – More Confessions of a Forty-Something F##k Up by Alexandra Potter
More Confessions of a Forty-Something F##k Up was published yesterday by Pan Macmillan in hardcover, ebook and audiobook. My thanks to Chloe Davies and Rosie Friis for the proof copy. It can be read as a standalone but if you haven't read the first book then I'd highly recommend it.
---

---
There is no magical land you finally arrive at where everything is figured out, fixed and sorted. Life, like us, is a sum of moving parts, and if we're lucky, we get to keep f**king up, figuring it out and laughing in the face of it all.

Nell's back. Her life still isn't going to plan. And she's still asking the big questions and getting none of the answers. Like, for example:

1. Why is falling in love so easy, but staying in love so hard?

2. What do you do when your friendships are put to the ultimate test?

3. Can we ever really live in the moment and leave the past behind?

4. When everything goes tits up, do you fall apart or jump on a plane to LA with Cricket (an eighty-something widow and your BFF)?

5. And when all else fails, will celebrity-scented candles, smashed avocados and Instagram filters save us?*

In this hilarious, un-put-downable follow-up to the bestselling Confessions of a Forty-Something F##k Up, now the basis for the major TV series, Not Dead Yet, there are laugh-out-loud lessons to be learned, truths to be told, adventures to go on and joys to discover.

But first, Nell has some more confessions . . .

*#onlyjoking #sortof #LOL
---

---
More Confessions picks up where the first book left off. Nell is in a happy place with her relationship and her work, the world is just emerging from lockdown and she's got her brilliant friends, including Cricket, the octogenarian she met through her job writing obituaries.
Nell is such a relatable forty-something. She's at the point where life inevitably starts to change for women and it becomes a fork in the road moment for her where she has to decide what's important to her. Cricket is the most brilliant character. I think we should all aim to be Cricket when we grow up. Best of all, she's aging gracefully but she's still sassy, accepting her aging as a privilege rather than a curse. The two women complement each other perfectly.
Nell has been likened to Bridget Jones but I got more of a sense of Carrie Bradshaw about her. The conversational writing style, the podcast and journalism, the asking of the big questions and not necessarily getting (or expecting) an answer felt very reminiscent of S&TC to me. I love Bridget, I love Carrie, and I love Nell. This is a big book but it's such an easy read, one which made me laugh out loud, smile wryly and empathise with all the characters.
A fantastic book about the highs and lows of all that life throws at us, full of wisdom, humour, friendship and love.
---
---
ALEXANDRA POTTER is the bestselling author of numerous bestselling novels, including CONFESSIONS OF A FORTY-SOMETHING F**K UP which is now the basis of a major TV series. These titles have sold in twenty-five territories and achieved worldwide sales of more than one million copies, making the bestseller charts across the world.
Born and raised in Yorkshire, Alexandra lived for several years in LA before settling back in the UK. She currently lives in London with her Californian husband and their Bosnian rescue dog.