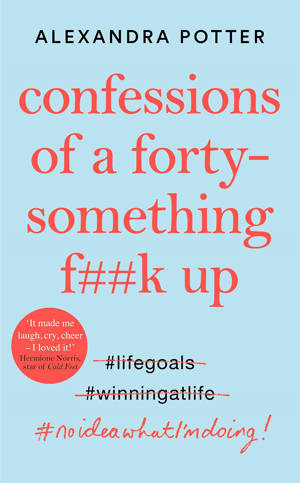 ShortBookandScribes #BookReview – Confessions of a Forty-Something F**k Up by Alexandra Potter
My review today is of Confessions of a Forty-Something F**k Up by Alexandra Potter. This, ladies and gentlemen, is why I am not doing my top reads of the year post until the year has ended. I absolutely loved this book! My thanks to Hannah Corbett from Pan Macmillan for sending me a copy of the book for review purposes.
---

---
Nell Stevens' life is a mess.

When her business goes bust and her fiancé with it, Nell's happy ever after in California falls apart and she moves back to London to start over. But a lot has changed since she's been gone. All her single friends are now married with children, sky-high rents force her to rent a room in a stranger's house and in a world of perfect Instagram lives, she feels like a f**k up. Even worse, a forty-something f**k up.

But when she lands a job writing obituaries, Nell meets the fabulous Cricket, an eighty-something widow with challenges of her own, and they strike up an unlikely friendship. Together they begin to help each other heal their aching hearts, cope with the loss of the lives they had planned, and push each other into new adventures and unexpected joys.

Because Nell is determined. Next year things are going to be very different. It's time to turn her life around.

An international bestseller, this is a book for anyone who's ever worried life isn't going to plan, Confessions of a Forty-Something F**k Up by Alexandra Potter will make you laugh and it might even make you cry. But most importantly, it will remind you that you're not alone, because we're all in this together.
---

---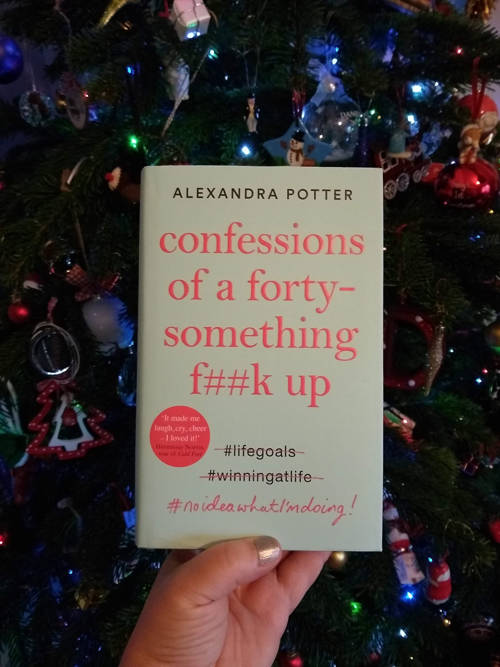 Confessions of a Forty-Something F**k Up jumped out at me the first moment I saw it, perhaps because I'm a forty-something myself, but more likely because the story sounded right up my street. It's been a long wait for it due to the publication date being put back, but at last it's here and it was everything I hoped for and more.
Nell Stevens is the forty-something f**k up, or she believes that's what she is. After running a successful business in America with her fiancé, she suddenly finds herself back in the UK, alone and faced with having to move back into her parents' house. I think the worst thing for Nell is that she's the odd one out amongst her friends who are all settled in happy relationships with families, and homes that look like they belong in glossy magazines.
Of course, nothing is what it seems. What I loved about this book was how it challenged everything. Do we ever know what goes on behind closed doors? Nell is a brilliant character who is fun and kind. We follow her through a whole year of her life, month by month, as she slowly gets back on her feet. She meets Cricket when she writes the obituary of her husband, Monty, and they become the best of friends. Cricket is in her 80s but has lost none of her zest for life. And then there's Edward, Nell's new landlord. I loved their little battles over the thermostat and the toilet rolls.
I admit I was slightly daunted by the size of this book (500 pages). I needn't have worried as I raced through it. It's the sort of book I didn't want to put down and was thinking about whenever I did. I felt all the emotions reading it. I laughed a lot as there's so much humour in the story. I also sympathised with Nell's situation and raged when she got let down again. I marvelled at her new friendship with Cricket and felt aggrieved on her behalf when she was with her old friends. Finally, I punched the air (not telling you why!).
Nell ends each chapter with a list of the things she's grateful for. Here's my list.
I'm grateful for:
Having the chance to read this fantastic book.
Alexandra Potter for writing it.
The pure joy contained in the pages.
Being reminded that nobody is perfect.
---
---
Born and raised in Yorkshire, Alexandra lived for several years in LA before settling back in the UK. She currently lives in London with her Californian husband and their Bosnian rescue dog.
She is the author of numerous bestselling novels, including THE CONFESSIONS OF A FORTY-SOMETHING F**K UP and BE CARE WHAT YOU WISH FOR, which have sold over 1 million copies worldwide. She won the Best New Fiction Award at the Jane Austen Regency World Awards in 2008 for ME AND MR DARCY and was shortlisted for the Romantic Novel Awards (RNA) in 2016 for LOVE FROM PARIS. Her novels have been translated into twenty-five languages, become international bestsellers and optioned by major film companies. Aside from novels, she has also contributed to several anthologies, been broadcast on radio and written for a variety of publications.
When she's not writing or travelling, Alexandra is getting out into nature, trying not to look at her phone and navigating this thing called mid-life.