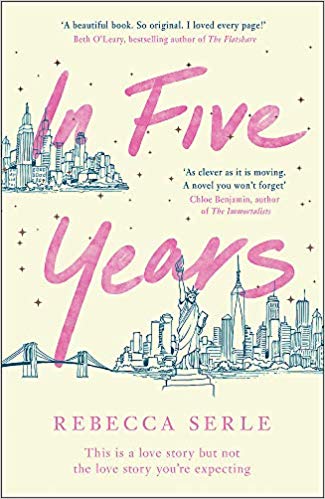 ShortBookandScribes #BookReview – In Five Years by Rebecca Serle @QuercusBooks
Today's review is of In Five Years by Rebecca Serle. This book was one of the books I was excited about in early 2020 and it didn't disappoint, even if it did surprise me. If you want to get your hands on a copy it's published tomorrow by Quercus. I'd like to thank the publishers for sending me a proof copy of the book for review purposes.
---

---
Perfect for fans of Me Before You and One Day, this heart-breaking story of love, loss and life will have you questioning everything you thought you knew about destiny…

Where do you see yourself in five years?

Type-A Manhattan lawyer Dannie Kohan has been in possession of her meticulously crafted answer since she understood the question. On the day that she nails the most important job interview of her career and gets engaged to the perfect man, she's well on her way to fulfilling her life goals.

That night Dannie falls asleep only to wake up in a different apartment with a different ring on her finger, and in the company of a very different man. The TV is on in the background, and she can just make out the date. It's the same night – December 15th – but 2025, five years in the future.

It was just a dream, she tells herself when she wakes, but it felt so real… Determined to ignore the odd experience, she files it away in the back of her mind.

That is, until four and a half years later, when Dannie turns down a street and there, standing on the corner, is the man from her dream…

In Five Years is a love story, brimming with joy and heartbreak. But it is definitely not the love story you're expecting.
---
---
In Five Years was not what I was expecting AT ALL! Don't think that means I'm disappointed with it because I'm not, not one bit. It's an absolutely beautiful, thoughtful and moving read.
What appealed to me initially was how the main character, Dannie, falls asleep and wakes up five years later. As a fan of time travel I thought she was maybe travelling into the future. There's a man there when she wakes up, one who it seems like she's meant to be with, but what about her current life, her current boyfriend? After a brief spell as her future self she's back in her normal life but the reality of what happened is with her throughout the next four and a half years until, out of the blue, she sees the man again.
So you can imagine what I thought when I read the blurb. A love triangle situation perhaps? All I can say is that nothing in this book is what I thought it would be. There is a love story but not what I expected. It's so hard to review this book without giving away anything that's not already on the back of the book but that bit about it definitely not being the love story you're expecting is absolutely spot on.
In Five Years is a gorgeous story, beautifully written. It's a story of love, friendship and life, and the unexpected paths it takes you down. It's such an innovative story, and Serle has done an amazing job at creating a story that surprised me at every turn. It's a heartbreaker and I just didn't want to stop reading it. It's just lovely.
---

---
Rebecca Serle is an author and television writer who lives between NYC and LA. Serle most recently co-developed the television adaptation of her YA series FAMOUS IN LOVE for Freeform and Warner Brothers Television. She is a graduate of the University of Southern California. Her bestselling US debut adult novel DINNER LIST was a Book of the Month club pick, Costco bookclub pick, and Bustle Bookclub selection.
Author bio and photo taken from Amazon