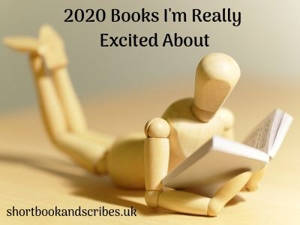 ShortBookandScribes – 2020 Books I'm Really Excited About
I seem to be constantly adding books to my wish list at the moment. Every day I see something on Twitter or Instagram that catches my eye and a lot of them have 2020 publication dates so I thought I would highlight just a few of them in a special post. I'd love to hear your thoughts on this set of beauties. There are 12 of them. Please note that the covers shown are probably not the final covers but they're all that are available at the moment. I should also point out that I'm looking at the print copy release dates here, not the ebook release dates which are sometimes earlier.
First up is Mix Tape by Jane Sanderson – published by Bantam Press on 23rd January 2020
You never forget the one that got away. But what if 'what could have been' is still to come? * Daniel was the first boy to make Alison a mix tape. But that was years ago and Ali hasn't thought about him in a very long time. Even if she had, she might not have called him 'the one that got away'; she'd been the one to run away, after all. Then Dan's name pops up on her phone, with a link to a song from their shared past. For two blissful minutes, Alison is no longer an adult in Adelaide with temperamental daughters; she is sixteen in Sheffield, dancing in her too-tight jeans. She cannot help but respond in kind. And so begins a new mix tape. Ali and Dan exchange songs – some new, some old – across oceans and time zones, across a lifetime of different experiences, until one of them breaks the rules and sends a message that will change everything… Because what if 'what could have been' is still to come?
If I didn't already love the idea of this book the mention of Sheffield would be swaying me. I remember the whole mix tape thing well and Dan and Ali's story sounds like one that might be a bit of a heartbreaker.
---
Next up is The Wreckage by Robin Morgan-Bentley – published by Trapeze on 6th February 2020
Things will never be the same again…

Ben is driving on the motorway, on his usual commute to the school where he works.

A day like any other, except for Adam, who in a last despairing act jumps in front of Ben's car, and in killing himself, turns the teacher's world upside down.

Wracked with guilt and desperate to clear his conscience, Ben develops a friendship with Alice, Adam's widow, and her 7-year-old son Max.

But as he tries to escape the trauma of the wreckage, could Ben go too far in trying to make amends?

Gripping and sinister, The Wreckage is guaranteed to keep you up all night…
Look at that gorgeous dark cover. I really like the sound of this story, of how to deal with guilt even when something isn't your fault. Guaranteed to keep me up all night? Bring it on.
---
Our Fathers by Rebecca Wait – published by riverrun on 23rd January 2020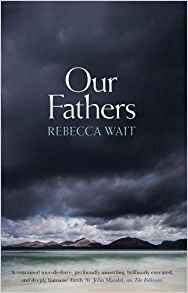 When Tom was eight years old, his father took a shotgun and shot his family: his wife, his son and baby daughter, before turning the gun on himself. Only Tom survived.

He left his tiny, shocked community on the island of Litta and the strained silence of his Uncle Malcolm's house while still a young boy. For twenty years he's tried to escape his past. Until now.

Without knowing how to ask, he needs answers – from his uncle, who should have known. From his neighbours, who think his father a decent man who 'just snapped'. From the memories that haunt the wild landscape of the Hebrides.

And from the silent ones who know more about what happened – and why – than they have ever dared admit.

By turns gripping, beautiful, devastating and tender, Our Fathers is a story about violence and redemption, control and love. With understated compassion and humour, Rebecca Wait gives a voice to the silenced and to the silences between men of few words.
I've read both of Rebecca Wait's previous books, The View on the Way Down being a particular favourite (The Followers being the second book) so I was excited to read a new book by her anyway. What particularly appeals to me about Our Father is the island community and the Hebridean setting, an area which fascinates me.
---
Book 4 is The Forgotten Letters of Esther Durrant by Kayte Nunn – published by Orion on 6th February 2020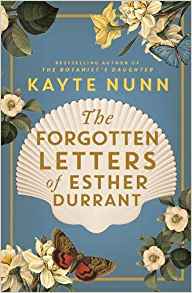 A forgotten woman…

1951. Esther Durrant, a young mother, is committed to an isolated mental asylum by her husband. Run by a pioneering psychiatrist, the hospital is at first Esther's prison but soon becomes her refuge.

A cache of unsent love letters…

2017. When free-spirited marine scientist Rachel Parker is forced to take shelter on a far-flung island off the Cornish Coast during a research posting, she discovers a collection of hidden love letters. Captivated by their passion and tenderness, Rachel is determined to find the intended recipient.

A dangerous secret…

Meanwhile, in London, Eve is helping her grandmother, a renowned mountaineer, write her memoirs. When she is contacted by Rachel, it sets in motion a chain of events that threatens to reveal secrets kept buried for more than sixty years.

This beautifully haunting and atmospheric novel, will sweep fans of Kate Morton, Elizabeth Gilbert and Emily Gunnis away this summer.
If it's for fans of Kate Morton then I'm in! This sounds so good and has so many elements I love: dual timeline, a woman in a mental asylum, a cache of unsent love letters, memoirs – *faints*.
---
Next is The Animals of Lockwood Manor by Jane Healey – published by Mantle on 5th March 2020
Some secrets are unspoken. Others are unspeakable . . .

August 1939.

Thirty-year-old Hetty Cartwright is tasked with the evacuation and safekeeping of the natural history museum's collection of mammals. Once she and her exhibits arrive at Lockwood Manor, however, where they are to stay for the duration of the war, Hetty soon realizes that she's taken on more than she'd bargained for.

Protecting her charges from the irascible Lord Lockwood and resentful servants is work enough, but when some of the animals go missing, and worse, Hetty begins to suspect someone – or something – is stalking her through the darkened corridors of the house.

As the disasters mount, Hetty finds herself falling under the spell of Lucy, Lord Lockwood's beautiful but clearly haunted daughter. But why is Lucy so traumatized? Does she know something she's not telling? And is there any truth to local rumours of ghosts and curses?

Part love story, part mystery, The Animals at Lockwood Manor by Jane Healey is a gripping and atmospheric tale of family madness, long-buried secrets and hidden desires.
First of all, that cover!!! Gorgeous, isn't it? This sounds like just the kind of quirky setting I love and the story sounds brilliant, so inspired and unusual.
---
The Fallout by Rebecca Thornton – published by Harper Collins on 2nd April 2020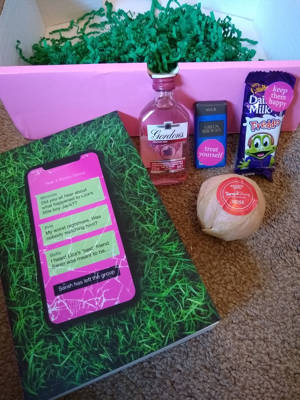 Everyone has an opinion. Everyone has a secret.

I only took my eyes off him for a second.
One little mistake is all it takes . . .

When Sarah forgets to check on her best friend's little boy, distraction turns to disaster. And she's faced with a dilemma.

Tell the truth, lose a friend.
Tell a lie, keep her close.

In a split second, Sarah seals her fate. But accidents have aftershocks, and lies have consequences. And when it's someone else's child, the rumours are quick to multiply.

Everyone's talking about what happened. And sooner or later, the truth will have to come spilling out…
The eagle eyed amongst you will remember seeing this in my Seven Day Spotlight last week. I do have a gorgeous proof of this one and am looking forward to it. Apparently it's an addictive, rumour-filled, domestic drama. Yes please!
---
The next in the list is Heatstroke by Hazel Barkworth – published by Headline on 28th May 2020
A dazzling debut novel of a dark love affair, set to ignite debate in summer 2020. For fans of Zoe Heller, Emma Cline, Expectation and The Lemon Grove.

It is too hot to sleep. To work. To be questioned time and again by the police.

At the beginning of a stifling, sultry summer, everything shifts irrevocably when Lily doesn't come home one afternoon.

Rachel is Lily's teacher. Her daughter Mia is Lily's best friend. The girls are fifteen – almost women, still children.

As Rachel becomes increasingly fixated on Lily's absence, she finds herself breaking fragile trusts and confronting impossible choices she never thought she'd face.

It wasn't supposed to happen like this.

Intoxicating and compulsive, Heatstroke is a darkly gripping, thought-provoking novel of crossed boundaries, power and betrayal, that plays with expectations at every turn.
Ooh this sounds dark and fabulous. An intoxicating story of obsession over one hot summer, there's something so stifling about a heatwave. It's a time when people may well behave out of character and it makes for an exciting plotline.
---
Pine by Francine Toon – published by Doubleday on 23rd January 2020
They are driving home from the search party when they see her. The trees are coarse and tall in the winter light, standing like men. 

Lauren and her father Niall live alone in the Highlands, in a small village surrounded by pine forest. When a woman stumbles out onto the road one Halloween night, Niall drives her back to their house in his pickup. In the morning, she's gone.

In a community where daughters rebel, men quietly rage, and drinking is a means of forgetting, mysteries like these are not out of the ordinary. The trapper found hanging with the dead animals for two weeks. Locked doors and stone circles. The disappearance of Lauren's mother a decade ago.

Lauren looks for answers in her tarot cards, hoping she might one day be able to read her father's turbulent mind. Neighbours know more than they let on, but when local teenager Ann-Marie goes missing it's no longer clear who she can trust.

In spare, haunting prose, Francine Toon creates an unshakeable atmosphere of desolation and dread. In a place that feels like the end of the world, she unites the gloom of the modern gothic with the pulse of a thriller. It is the perfect novel for our haunted times.
That cover is amazing, isn't it? The setting of the Highlands got my attention straightaway with this one and I love the sound of this disturbing tale. Modern gothic with the pulse of a thriller……..yes!
---
Book 9 is The Silent Treatment by Abbie Greaves – published by Century/Arrow on 2nd April 2020
A lifetime together. Six months of silence. One last chance.

Frank hasn't spoken to his wife Maggie for six months.

For weeks they have lived under the same roof, slept in the same bed and eaten at the same table – all without words.

Maggie has plenty of ideas as to why her husband has gone quiet.

But it will take another heartbreaking turn of events before Frank finally starts to unravel the secrets that have silenced him.

Is this where their story ends?
Or is it where it begins?

With characters that will capture your heart, THE SILENT TREATMENT celebrates the phenomenal power of love and the importance of leaving nothing unsaid.
I'm so intrigued as to why Frank has gone silent. I have a feeling this may be a heartbreaker of a read but I need to know the answer!!
---
Book 10 is In Five Years by Rebecca Serle – published by Quercus on 3rd March 2020
Where do you see yourself in five years? 
Type-A Manhattan lawyer Dannie Kohan has been in possession of her meticulously crafted answer since she understood the question. On the day that she nails the most important job interview of her career and gets engaged to the perfect man, she's well on her way to fulfilling her life goals.
That night Dannie falls asleep only to wake up in a different apartment with a different ring on her finger, and in the company of a very different man. The TV is on in the background, and she can just make out the date. It's the same night – December 15th – but 2025, five years in the future.
It was just a dream, she tells herself when she wakes, but it felt so real… Determined to ignore the odd experience, she files it away in the back of her mind.
That is, until four and a half years later, when Dannie turns down a street and there, standing on the corner, is the man from her dream…
In Five Years is a love story, brimming with joy and heartbreak. But it is definitely not the love story you're expecting.
This storyline sounds fascinating. I love the idea of someone thinking they know exactly where they will be in five years and then having that turned on its head in the most unusual and clever way. Exciting!
---
Book 11 is The Authenticity Project by Clare Pooley – published by Transworld/Pamela Dorman Books on 4th February 2020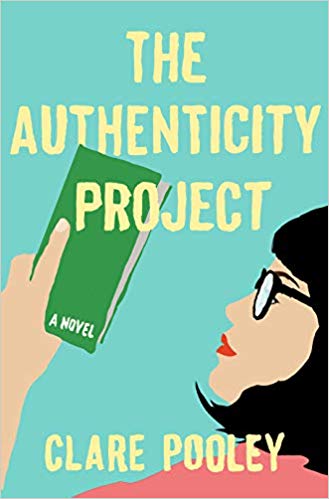 A story about a solitary green notebook that brings together six strangers and leads to unexpected friendship, and even love–think Eleanor Oliphant Is Completely Fine meets Love, Actually

"Everybody lies about their lives. What would happen if you shared the truth?"

This is the question that Julian Jessop, an eccentric, seventy-nine-year-old artist, poses within a pale green exercise book that he labels The Authenticity Project, before leaving it behind in Monica's Café.

When Monica discovers Julian's abandoned notebook, not only does she add her own story to the book, she is determined to find a way to help Julian feel less lonely.

And so it goes with the others who find the green notebook that will soon contain their deepest selves. It will also knit the group together In Real Life at Monica's Cafe, where they'll discover the thrill and sometime-risk of being completely honest–and, for some, find unexpected love.

With a cast of characters who are by turns quirky and funny, heartbreakingly sad and painfully true-to-life, The Authenticity Project is a novel readers will take to their hearts and read with unabashed pleasure.
The green notebook sounds amazing and what a quirky idea for a story. I love how it leads to unexpected friendships. This books sounds like a really lovely read.
---
And finally, book 12 is The Foundling by Stacey Halls – published by Zaffre on 6th February 2020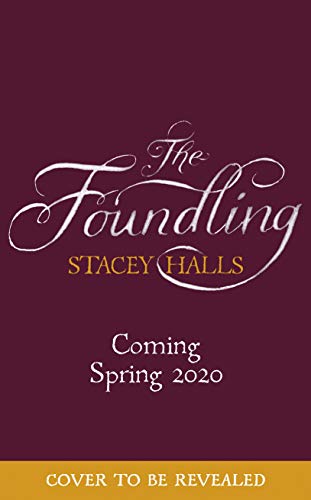 Set against the vibrant backdrop of Georgian London, The Foundling explores families, secrets, class, equality, power and the meaning of motherhood. 

London, 1754. Six years after leaving her illegitimate daughter Clara at London's Foundling Hospital, Bess Bright returns to reclaim the child she has never known. Dreading the worst – that Clara has died in care – the last thing she expects to hear is that her daughter has already been reclaimed – by her. Her life is turned upside down as she tries to find out who has taken her little girl – and why.

Less than a mile from Bess' lodgings in the city, in a quiet, gloomy townhouse on the edge of London, a young widow has not left the house in a decade. When her close friend – an ambitious young doctor at the Foundling Hospital – persuades her to hire a nursemaid for her daughter, she is hesitant to welcome someone new into her home and her life. But her past is threatening to catch up with her and tear her carefully constructed world apart.
I loved the Familiars and so I'm eagerly waiting for Stacey Halls' second book. I really like the fact it's set around a Foundling Hospital. I think I'm pretty much guaranteed to love it.
---
That's my 12. It's by no means exhaustive and as I press publish on this post I'll probably think of some more 2020 publications (this might even turn out to be only part 1), but I think these sound absolutely fantastic, don't you?
I'm also looking forward to more by my favourite authors next year. Debut authors often seem to get all the glory but I can't wait for Jo Thomas' Provence book, more by Mary Wood/Maggie Mason, a new book from Linda Gillard, Lesley Pearse and so many more.
I'm just one person trying to read all the books!