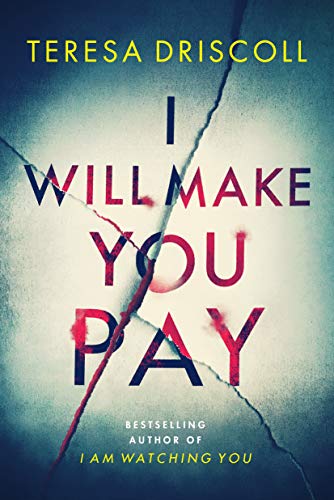 ShortBookandScribes #BookReview – I Will Make You Pay by Teresa Driscoll @teresadriscoll @amazonpub @ed_pr #IWillMakeYouPay #BlogTour
I'm so pleased to be reviewing the amazing I Will Make You Pay by Teresa Driscoll today. My thanks to Megan Denholm from ed pr for the place on the tour and to Thomas & Mercer/Amazon Publishing for the fabulous proof copy of the book.
---
Every Wednesday brings a threat to journalist Alice more vicious than the last – but who is behind this and why?

A tense, original and twisty psychological thriller.

Every Wednesday like clockwork the terror returns…

It seems like an ordinary day until the phone rings. A mysterious caller with a chilling threat. Journalist Alice Henderson hangs up, ready to dismiss it as a hoax against the newspaper. But the next Wednesday, the stalker makes another move – and it becomes
clear that this is all about Alice.

Someone wants her to suffer, but for what? Her articles have made her a popular local champion – could it be her past rather than her work that's put her life in danger? Alice is determined not to give in to fear, but with the police investigation at a dead end, her boyfriend insists on hiring private investigator Matthew Hill. With every Wednesday the warnings escalate, until it's not only Alice but also her family in the stalker's sights. As her tormentor closes in, can Alice uncover what she's being punished for before the terrifying threats become an unthinkable reality?

The novel is inspired by the author's real-life experience of anonymous threats as a journalist.
'I Will Make You Pay' by Teresa Driscoll is out now, published by Thomas & Mercer, priced £8.99 in paperback original.
---

This book is absolutely brilliant. That's all I need to say. However, I'm thinking you might want a bit more detail than that somehow.
It's the story of Alice Henderson, a journalist on a fairly small local paper. As the book begins, Alice has just received a call at work from a man who says he is going to cut her with cheese wire. Not exactly an average day at work, even for a journalist. She realises that this may not be the first time she's heard from this guy and yes, they appear to be linked by the fact that they always happen on a Wednesday.
It's a fascinating premise for a story but what really makes this one stand out is the quality of the writing. I found I couldn't put it down and I was desperate to know who on earth was stalking Alice.
Her boyfriend, Tom, hires a private investigator ex-cop called Matthew. Most of the chapters are told from Alice's point of view as she negotiates the terror that she is feeling whilst trying to get on with some semblance of normality and also dealing with a very ill mother. We also have the odd chapter that follows Matthew, his home life and the investigation. In a way, in other hands these chapters might not have fitted at all, but again the writing and the way Driscoll pulls all the threads together make it work incredibly well.
We also hear about a young boy, living with his gran, growing up with little money and a difficult life at times. Yet he knows real love from his gran and he loves her in turn. How these sections link in isn't clear but I was gripped by them. I kept trying to put the strands together but I couldn't for a long time and I love that the author did such a great job of keeping me wondering.
I'm very disappointed now that I've not read any of Teresa Driscoll's books before. If they're like this one then I've missed out. I won't make that mistake again. I Will Make You Pay is thrilling, chilling, moving at times, and I was totally unnerved by it. What an awful situation for Alice. It's a psychological thriller with a very human element which made me care for the characters, and an edge of the seat vibe. Perfect, I would say!
---

---

Teresa Driscoll is a number one bestselling author and former BBC TV news presenter. Her debut psychological thriller I Am Watching You hit number one on Amazon UK charts. It has since been optioned for film and she has sold a million books. I Will Make You Pay is Teresa's fourth novel, following bestsellers The Promise and The Friend. Before becoming a full-time writer, Teresa worked as a journalist across newspapers and TV. For fifteen years she presented BBC TV's nightly news programme Spotlight from Devon. She was a Devon Life columnist and has written numerous short stories for women's magazines.