ShortBookandScribes #BookReview – I Dare You by Sam Carrington @AvonBooksUK #BlogTour
Welcome to my stop on the blog tour for I Dare You by Sam Carrington. I loved this book and you can read my review below. Thank you to Avon Books for the copy of the book for review purposes and the place on the tour.
---
AN INNOCENT GAME. A SHOCKING CRIME. A COMMUNITY FULL OF SECRETS.

Mapledon, 1989
Two little girls were out playing a game of dares. Only one returned home.
The ten-year-old told police what she saw: village loner Bill 'Creepy' Cawley dragged her friend into his truck and disappeared.
No body was found, but her testimony sent Cawley to prison for murder. An open and shut case, the right man behind bars.
The village could sleep safe once again.

Now…
Anna thought she had left Mapledon and her nightmares behind but a distraught phone call brings her back to face her past.
30 years ago, someone lied. 30 years ago, the man convicted wasn't the only guilty party.
Now he's out of prison and looking for revenge. The question is, who will he start with?
---

This is my third Sam Carrington book and by far my favourite. It's a book of many twists and turns.
Anna escaped her childhood village of Mapledon twenty years ago but a frantic call from her mum, who still lives in Anna's childhood home, calls her back there. Muriel is panicking about events linked to the release of William Cawley, the man the kids of the village used to call Creepy Cawley. Thirty years ago he was responsible for the abduction of Anna's friend, Jonie. It was presumed that he murdered her and he went to prison for life.
However, now he's been released secrets are coming to light. Anna is finding it a struggle to be back in Mapledon and who is Lizzie, a woman of the same age who has links with the village?
First of all, I loved the small village feeling. Stepford Wives is alluded to in the story and that's exactly what it feels like. Busybody wives and mothers, scuttling off to their village meetings, like witches round a cauldron, stirring everything up. I also loved the story. I thought it was masterfully plotted and I truly didn't know who to believe. I suspected everybody more than once and even though I started to guess some of it as I got near the end, the author still managed to throw in another twist or two.
I love this kind of book. I love the tight-knit community feel of it. It was clear how difficult Anna found it to return and yet Muriel would never have dreamt of leaving. I also really enjoyed the current and past timelines and how they were intermingled. I think the author did incredibly well to maintain them both in the way she did, proving her writing and plotting abilities.
It really portrayed how easy it is for things to get out of hand. A childhood game of knocking on doors and running away affected a whole village for a whole generation. Such an appealing and gripping storyline, I was hooked by it from start to finish and I thought it was a fabulous psychological thriller of a read.
---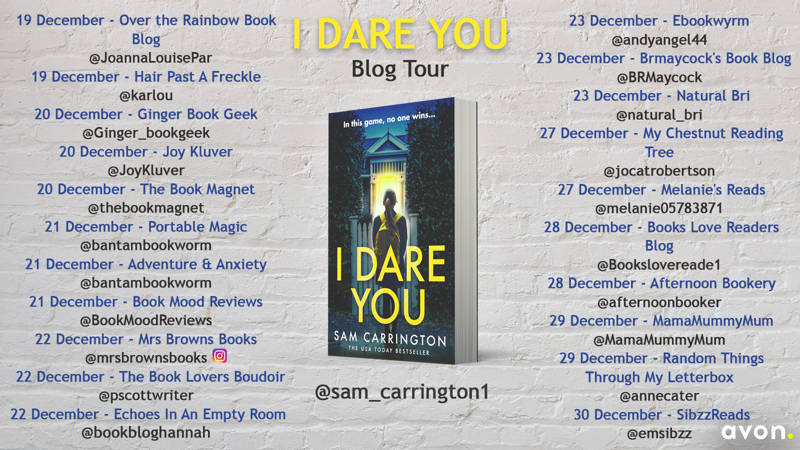 ---

Sam Carrington lives in Devon with her husband, two border terriers and a cat. She has three adult children and a new grandson! She worked for the NHS for fifteen years, during which time she qualified as a nurse. Following the completion of a psychology degree she went to work for the prison service as an Offending Behaviour Programme Facilitator. Her experiences within this field inspired her writing. She left the service to spend time with her family and to follow her dream of being a novelist. SAVING SOPHIE, her debut psychological thriller, published in September 2016. It became a Kindle eBook bestseller, with the paperback hitting The Bookseller Heatseeker chart at #8. Sam was named an Amazon Rising Star of 2016. Her second psychological thriller, BAD SISTER, published in 2017 followed by ONE LITTLE LIE in July 2018. THE MISSING WIFE publishes in June 2019 with her fifth due on 12th December.