ShortBookandScribes #BookReview – Haverscroft by S.A. Harris @saltpublishing #HaverscroftHalloween #BlogTour
Welcome to my stop on the blog tour for Haverscroft by S.A. Harris. I loved this book which came off my own TBR pile. My thanks to Emma Dowson for asking me to be a part of the #HaverscroftHalloween tour.
---
Kate Keeling leaves all she knows and moves to Haverscroft House in an attempt to salvage her marriage. Little does she realise, Haverscroft's dark secrets will drive her to question her sanity, her husband and fatally engulf her family unless she can stop the past repeating itself. Can Kate keep her children safe and escape Haverscroft in time, even if it will end her marriage?

Haverscroft is a gripping and chilling dark tale, a modern ghost story that will keep you turning its pages late into the night.
---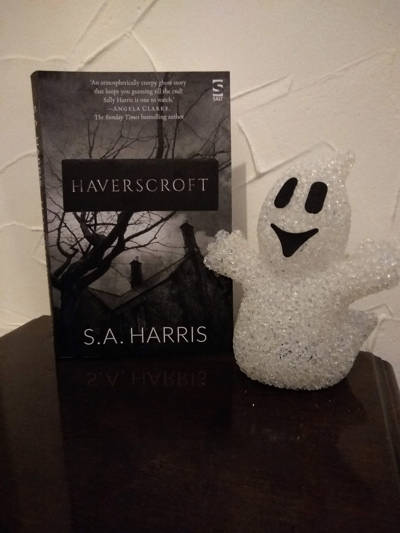 I sometimes find myself shying away from ghost stories, not because I'm scared of them but because I often find them just too implausible, but I'd heard so many good things about Haverscroft that I was very keen to give it a go. I thought it was a brilliant read, one that I thought was very well executed, and whilst I don't believe in ghosts, I found this story as plausible as any ghost story could be in my eyes.
Kate and her family have moved from London to live at Haverscroft House. Kate isn't that keen but Mark, her husband, and their twins, Tom and Sophie, like the place and Kate has been ill and so isn't strong enough to put up a fight. From the off something is amiss. Strange noises, odd smells, rooms that are locked one minute and not the next, and an all round sinister feeling makes Kate very ill at ease. The twins feel something too but Mark is away working all week and he thinks Kate is just overreacting.
I must admit that I also, at times, wondered if Kate was either overthinking things that could be explained somehow, or if maybe it was all in her mind, but at the same time I knew that this couldn't really be so. Not only do the twins also feel that something isn't right in the house but the cleaner, Mrs Cooper, does too, not to mention the previous owner, Mrs Havers herself, who summons Kate to see her in her care home. Incidentally, Mrs Havers was probably one of my favourite characters, a woman with secrets galore.
I found Haverscroft such an interesting story. That makes it sound like I couldn't think of a better word, but it really is so absorbing. I was fascinated by not only the house and all that was occurring there, but also the background that Kate was discovering and the people she was meeting from the village. One thing I struggled with slightly was the way that once or twice information was dropped into the story from nowhere and so I felt a little confused, but this is a very minor issue and one which soon resolved itself with further explanation.
I'm not usually scared by ghost stories and this was no exception, but I did find it chilling and the malevolence in the house quite disturbing. I also really enjoyed S.A. Harris's writing style and her way of weaving a story. I'm not sure who the main character is in this book, Kate or the house, but I most definitely wouldn't want to stay in that place. There's an underlying tension all the way through and I was just waiting to see how it would all turn out.
Haverscroft is a deliciously taut story of a woman on the edge, pushed even further by events in her new home. I enjoyed it very much. I'm pleased to note Harris is writing a second dark tale. Count me in!
---
---

S.A.Harris is an award-winning author and family law solicitor born in Suffolk and now living and working in Norwich, Norfolk.
She won the Retreat West Crime Writer Competition in 2017. She was shortlisted for The Fresher Prize First 500 Words of a Novel Competition in 2018 and published in their anthology, Monsters, in November 2018.
Her debut novel, Haverscroft, was published on the 15th May 2019 and Longlisted for the Not the Booker Prize 2019.
She is a member of the Society of Authors. You can contact her via her publisher: chris@saltpublishing.com or on Twitter, Facebook, Instagram or author website.