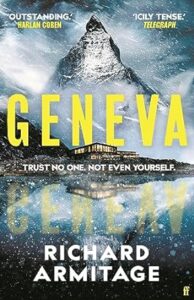 ShortBookandScribes #BookReview – Geneva by Richard Armitage
Geneva by Richard Armitage will be published by Faber & Faber on 12th October in hardcover, ebook and audiobook. My thanks to the publishers for the proof copy of the book. I've been a teeny tiny* fan of Mr Armitage for many years now and so was thrilled to have a copy of his debut novel. I'll be getting a finished copy signed at his Off the Shelf event in Sheffield next month (wibble!).
*massive
---

---
A SPECTACULAR DESTINATION THRILLER WITH HEART

Nobel Prize-winning scientist Sarah Collier has started to show the same tell-tale signs of Alzheimer's disease as her father: memory loss, even blackouts. So she is reluctant to accept the invitation to be the guest of honour at a prestigious biotech conference – until her husband Daniel, a neuroscientist, persuades her that the publicity storm will be worth it. The technology being unveiled at this conference could revolutionise medicine forever. More than that, it could save Sarah's life.

In Geneva, the couple are feted as stars – at least, Sarah is. But behind the five-star luxury, investors are circling, controversial blogger Terri Landau is all over the story, and Sarah's symptoms are getting worse. As events begin to spiral out of control, Sarah can't be sure who to trust – including herself.
---

---
For his debut novel Richard Armitage takes as his inspiration Sarah Gilbert, the scientist who co-developed one of the first covid vaccines available for use in the UK. His creation is Sarah Collier, a Nobel prize-winner, who is showing early signs of the Alzheimer's that is already advanced in her father. Sarah is asked to endorse a technological advancement that could save lives, maybe even her own and so she travels to the conference at the Schiller Institute in Geneva with her husband, Daniel.
The story is told from the points of view of Sarah and Daniel. Sarah is becoming increasingly confused and Daniel is her rock. What would she do without him? There are also blog posts from a blogger called Terri Landau who specialises in exposing the healthcare and pharmaceutical industries.
Geneva is a fairly fast-paced intelligent thriller with a fascinatingly unreliable narrator in Sarah. Her story is distressing as she struggles with focus and knowing what is real. What's really interesting in this book is that no character is what they seem and it kept me guessing all the way through. Armitage pulls off some rather clever plot twists!
I enjoyed Geneva. I felt it had a cinematic feel to it (no surprise given the writer's background) and I suspect it will translate very well to the screen should that happen. Sarah's circumstances are told sympathetically, the villains are dastardly and the setting is icy and frosty which is perfect for a suspense-filled novel like this. An accomplished and well-written literary thriller debut.
---
---
Richard Armitage is a multi-award winning stage, screen and voice actor best known for his roles in Peter Jackson's trilogy of The Hobbit, Captain America, Alice through the Looking Glass and Oceans 8. Geneva is his first novel.