ShortBookandScribes #BookReview + #Extract + #Giveaway – Beyond The Moon by Catherine Taylor @CathTaylorNovel @rararesources #BlogTour
Welcome to my stop on the blog tour for Beyond the Moon by Catherine Taylor. I have my review of this lovely book to share you with today along with a fabulous extract and a chance to win one of five paperback copies. My thanks to the author for kindly supplying a physical copy of her book for review purposes and to Rachel Gilbey from Rachel's Random Resources for the place on the tour.
---
"Outlander meets Birdsong is this haunting debut timeslip novel, where a strange twist of fate connects a British soldier fighting in the First World War and a young woman living in modern-day England a century later. Shortlisted for the Eharmony/Orion Write Your Own Love Story Prize 2019"

In 1916 1st Lieutenant Robert Lovett is a patient at Coldbrook Hall military hospital in Sussex, England. A gifted artist, he's been wounded fighting in the Great War. Shell shocked and suffering from hysterical blindness he can no longer see his own face, let alone paint, and life seems increasingly hopeless.

A century later in 2017, medical student Louisa Casson has just lost her beloved grandmother – her only family. Heartbroken, she drowns her sorrows in alcohol on the South Downs cliffs – only to fall accidentally part-way down. Doctors fear she may have attempted suicide, and Louisa finds herself involuntarily admitted to Coldbrook Hall – now a psychiatric hospital, an unfriendly and chaotic place.

Then one day, while secretly exploring the old Victorian hospital's ruined, abandoned wing, Louisa hears a voice calling for help, and stumbles across a dark, old-fashioned hospital room. Inside, lying on the floor, is a mysterious, sightless young man, who tells her he was hurt at the Battle of the Somme, a WW1 battle a century ago. And that his name is Lieutenant Robert Lovett…

Two people, two battles: one against the invading Germans on the battlefields of 1916 France, the other against a substandard, uncaring mental health facility in modern-day England. Two journeys begun a century apart, but somehow destined to coincide – and become one desperate struggle to be together.

Part WW1 historical fiction, part timeslip love story – and at the same time a meditation on the themes of war, mental illness, identity and art – Beyond The Moon sweeps the reader on an unforgettable journey through time.
Purchase Links
---

I find it hard to resist a time travel book and Beyond the Moon piqued my interest even further as it is partly set in WWI, a period of time I'm getting more and more interested in reading about. This is, however, primarily a love story.
Our hero and heroine are Robert and Louisa. There's nothing simple about their love story though as Robert lives in 1916 and Louisa in 2017, just over a century apart. Robert is a 1st Lieutenant fighting in France during the First World War. He's convalescing at Coldbrook Hall when he meets Louisa. She is there because she is a patient at Coldbrook, placed there because it is believed she tried to kill herself. She meets Robert one day when she stumbles into an unused wing and also stumbles into 1916.
It's not time travel in the strictest sense, it's more of a falling through the years, and I really enjoyed the cleverly woven tale. The love story is beautifully executed as our protagonists deal with not only their own problems but the issue of how to make a very unusual long distance relationship work.
What particularly stands out for me about this book are the descriptions of life for the fighting soldiers. The author has clearly got a passion for the era and has researched extensively to be able to portray so intensely the hell of the trenches. Many times I winced as I read of injuries and the conditions that the soldiers had to deal with. It's done sympathetically though and if it's gruesome at times then that's because it's clearly based on fact.
Beyond the Moon has been described as Outlander meets Birdsong and I can't think of a more accurate description and yet it has its own uniqueness. It's quite a gritty story at times. Not only do we have Robert as a soldier but Louisa eventually finds herself in France herself, as a VAD at a hospital. With a desire to be a doctor she's not completely out of place but learning to deal with such problems as how to light a fire, how to make invalid custard (who knew that was a thing?!), are not what she had in mind.
It's a fascinating read, both in terms of the detail and the well-plotted storyline. I did feel that maybe the ending felt a tad rushed after the sweeping elements of the story as a whole, but I certainly closed the book with a sense of satisfaction and pleasure that I had read it.
---

Chapter Thirteen

High Wood, mid-July 1916

It was beautiful; so unexpectedly and profoundly perfect that he felt his heart might break. Robert looked out over the cornfield at High Wood, tears spilling down his cheeks, surprised he still had the ability to cry. Perhaps there was something in him that was still human after all. A little way behind stood Private Nesbitt, his signaller. The two of them had come out in advance to assess the lie of the land.

The breeze brushed softly through the ripening ears of corn, as if for the simple pleasure of feeling them part. And the corn, in turn, seemed to shiver with pleasure at its touch. There was scarcely a shell hole to be seen. Nearby, a song thrush spilled its joyous tune. It was warm, the sky mostly overcast, but every now and then a shaft of sunlight broke through and gilded the landscape and heated the back of his neck. Only the distant boom of the guns gave away the fact they were still at the front.

He closed his eyes, drank in the silence. He could almost be back at home in the fields of his boyhood, tramping through the thigh-high buttercups with a jam jar, catching beetles and pretending not to hear Cook at the bottom of the garden calling him back in for lunch. He could scarcely believe he'd ever been that boy. That time increasingly seemed like a fantasy dreamt up by someone else.

It was just two weeks since the great offensive had kicked off, but he felt he'd aged a lifetime. His battalion had been sent further down the line, south of the Albert to Bapaume road, where the attack had been a bit more successful on the first of July. There, the British had not only taken a little ground but held it – albeit at great cost. Now Sir Douglas Haig wanted to exploit the gains. Things had gone well so far that morning. Instead of a long preliminary bombardment proclaiming loudly to all and sundry the fact that the British were coming, there'd been a short, lightning bombardment. Under cover of darkness, they'd been able to take the Germans by surprise and turf them out of three miles of their own second line. Luck had, for once, been on their side. Now they must press their advantage and advance further. There were no two ways about it. This time they simply had to succeed.

'Here.' Robert tossed back a packet of Woodbines. He always kept some. They calmed the men's nerves in a tight spot. He lit himself a Turkish cigarette, then threw back the matches. Normally, he'd have struck the match for the man himself, but his hands were very unsteady.

'Sit down, Nesbitt,' Robert said, wiping the dust from his eyes. 'I think we've earned a breather, don't you?'

Nesbitt was a Kitchener's Army volunteer. He was twenty-one and had worked in a greengrocer's shop in Kent. He kept making involuntary frowning movements and his breath came quick and rough, like a saw rasping through wood.

'Not long now and we'll be in billets behind the line,' said Robert, trying to sound reassuring. 'You did well this morning, Nesbitt. The whole company did splendidly.'

'Thank you, sir.' Nesbitt looked up at him like a child, frightened but trusting. Best to keep him close by, Robert thought, or he might simply disappear off into the woods. He'd be far from the first to lose his nerve and desert, and several had been shot for it.

But Robert could understand the lure of escape. These new men were all civilians, just like he'd once been – farmhands, miners, postmen, chandlers. They'd come to France fired up by vague and noble ideas of 'doing their bit', hoping for adventure and a hero's welcome back home to boot – only to find themselves tossed like dry sticks into the scorching furnace of the Somme. How many of those he'd taken over the top on that appalling first day now lay dead, their bodies filling out the bloated stomachs of the rats and flies of Picardy?

'Have you anyone waiting for you at home, Private?' Robert asked. 'Anyone special?'

'Just my mum and sister, sir.'

Robert knew that already, of course, from censoring the man's letters. 'Dearest Mother, dearest Ruby, all is well with me,' Nesbitt would always begin. He wasn't the sort to complain about his lot; few of them were. 'We're in a nice, quiet sector here, so you're not to worry . . . '

Robert nodded. 'Well, I dare say there'll be a letter or two waiting for you when the post arrives.'

'Yes, sir.'

He trained his field glasses on High Wood. How wonderful it was to see trees again: tall and glorious as nature had made them, unmarked by war, the wind sifting through their leaves – not mutilated stumps, eerie forests of stark telegraph poles. And here there was no hideous background drone of billions of flies feasting on the bloated black flesh of the fallen, reheated every morning by the sun.

There wasn't the least sign of activity. Had the Germans been driven out? He hardly dared to hope so. But if so then finally, finally they might be on the verge of the breakthrough that had eluded them. If they could take High Wood, they could cut through the German lines, and the advantage, for the first time, would be theirs. The Big Push and all the unspeakable bloody shambles of the last two weeks wouldn't have been all for nothing.

'We'll go on a bit further and take a look,' he said.

Nesbitt got to his feet.

'Stay low,' Robert ordered, feeling for his gun.
---

 Giveaway to Win 5 x PB Copies of Beyond The Moon (Open INT)
*Terms and Conditions –Worldwide entries welcome. Please enter using the Rafflecopter box below. The winner will be selected at random via Rafflecopter from all valid entries and will be notified by Twitter and/or email. If no response is received within 7 days then Rachel's Random Resources reserves the right to select an alternative winner. Open to all entrants aged 18 or over. Any personal data given as part of the competition entry is used for this purpose only and will not be shared with third parties, with the exception of the winners' information. This will passed to the giveaway organiser and used only for fulfilment of the prize, after which time Rachel's Random Resources will delete the data. I am not responsible for dispatch or delivery of the prize.
---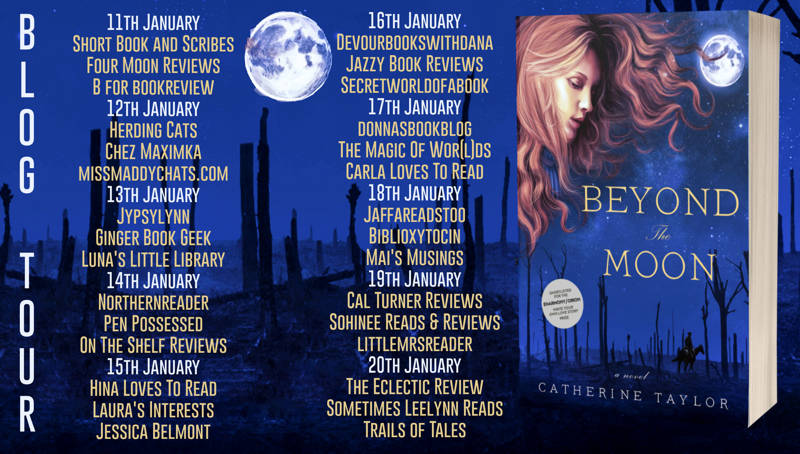 ---

Catherine Taylor was born and grew up on the island of Guernsey in the British Channel Islands. She is a former journalist, most recently for Dow Jones News and The Wall Street Journal in London. Beyond The Moon is her first novel. She lives in Ealing, London with her husband and two children.