ShortBookandScribes #BookReview – Daisy Belle by Caitlin Davies @CaitlinDavies2 @Unbound_Digital @unbounders #RandomThingsTours #BlogTour
I'm delighted to be closing the blog tour today for Daisy Belle, Swimming Champion of the World by Caitlin Davies, and I will be sharing my review. My thanks to Anne Cater for the place on the tour and for providing the ebook for review purposes.
Summer 1867: four-year-old Daisy Belle is about to make her debut at the Lambeth Baths in London. Her father, swimming professor Jeffrey Belle, is introducing his Family of Frogs – and Daisy is the star attraction. By the end of that day, she has only one ambition in life: she will be the greatest female swimmer in the world.   She will race down the Thames, float in a whale tank, and challenge a man to a 70-foot high dive. And then she will set sail for America to swim across New York Harbour. But Victorian women weren't supposed to swim, and Daisy Belle will have to fight every stroke of the way if she wants her dreams to come true.   Inspired by the careers of Victorian champions Agnes Beckwith and Annie Luker, Daisy Belle is a story of courage and survival and a tribute to the swimmers of yesteryear.
---

Historical fiction isn't always my bag but certain books in the genre do tend to catch my eye and I think the fact that Daisy Belle is inspired by many real life events really captured my imagination. I ended up being completely captivated by Daisy's story and absolutely loved the book.
Daisy is four when she is first introduced to the pleasures of swimming by her father. Straightaway she feels an affinity with the water, be it at the swimming baths or in the wide open space of the sea. Telling her life story to an unknown person who she is watching in the prologue, Daisy puts across in a matter of fact way the many life-changing events she goes through.
Her father is pushy and exploits Daisy, whereas her mother is horrified that Daisy loves swimming. The descriptions of the knitted swimming costumes made me smile but they must have been so uncomfortable to swim in.
I adored Daisy. For a woman in the mid 1800s she was incredibly forward-thinking and held back by convention and by men! I found some of those men difficult to like, such as her father at times, and a man who later on in the story comes to be a major part of Daisy's life. But for all that there were men trying to hold her back (and let's not forget her mother who was totally bound by the conventions of the day and the belief that men should practically think for their womenfolk) there were also men encouraging her along the way, her brother being one of them and another man later on who, again, becomes really important to Daisy.
I couldn't help reading with a sense of awe as Daisy scored achievement after achievement, sticking a metaphorical two fingers up to anyone who tried to stop her.
This is a book that completely put me back into the 1800s. There's a very strong sense of place and I was easily able to imagine, from the beautiful descriptions, the way that Daisy felt whilst in the water, what it was like to be constrained and also to be free.
It's an incredibly evocative read. It's uplifting and moving and in fact I felt like my emotions were thrown up and down as surely as if I myself was out on the ocean wave. It was fascinating to read at the end about the author's research and inspiration, the real-life swimmers on whom Daisy was based, and so good to hear that there were some trail-blazing lady swimmers in the past.
I think Daisy is a character that you cannot help but like. I thought she was wonderful and the story brilliantly written. Caitlin Davies has produced a fantastic novel with Daisy Belle.
---

---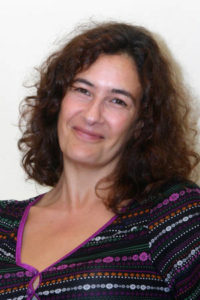 Caitlin Davies was born in London in 1964. She spent 12 years in Botswana as a teacher and journalist and many of her books are set in the Okavango Delta, including a memoir Place of Reeds, described by Hilary Mantel as 'candid and unsentimental'.
Her novels include The Ghost of Lily Painter, a fictional account of the arrest and execution of two Edwardian baby farmers, and Family Likeness about the fate of 'war babies' born to African American GI fathers in England during World War Two.
Her non-fiction books include Taking the Waters: A Swim Around Hampstead Heath, a celebration of 200 years of outdoor bathing, an illustrated history of the world famous Camden Lock Market, and Downstream: a history and celebration of swimming the River Thames.
Her latest non-fiction is Bad Girls, and her latest novel is Daisy Belle: Swimming Champion of the World, based on the lives of several Victorian aquatic stars, to be published by Unbound on September 1, 2018.
She is also a teacher and journalist, and was a regular feature writer for The Independent's education and careers supplement. From 2014-17 she was a Royal Literary Fund Fellow at the University of Westminster, Harrow, in the faculty of Media, Arts & Design.