ShortBookandScribes #BookReview – Countdown to Christmas by Jo Thomas
Countdown to Christmas by Jo Thomas is available now in eBook and from 12th October in paperback and audiobook. My thanks to Chloë Rose at Transworld for the gorgeous proof package.
---

---
Chloë can't wait for Christmas . . . to be over! Her son Ruben is staying with his dad and Chloë is planning to ignore the holidays altogether. Her only festive touch is her son's advent calendar, to help count down the days till he's home again.

But a surprise call changes everything. Chloë might be the unexpected owner of some land in Canada! Surely, it's a scam. Or could it be just the escape she needs right now? Ruben's latest note in the advent calendar tells her to 'say yes!'

In a flash, Chloë's new countdown to Christmas involves a log cabin in the middle of a snowy forest, a community that's worried for its future, a gruff lumberjack who gives her butterflies and a lot of pancakes with maple syrup . . .
---

---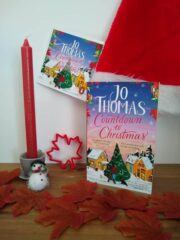 When Chloë's son, Ruben, sets off for New York on 1st December to spend a whole month with his dad, she thinks there's no point to Christmas without him. Then an heir hunter gets in touch with her about a plot of land in Québec and she decides to go there and take a look at it for herself. When she gets to the small town she learns that its livelihood is the production of maple syrup, using sap tapped from the maple trees in the forest.
There's a wonderful cast of characters in this book. The story is told by Chloë and we witness her development from being a stranger in the town to a valued member of the community. There's romance in the form of Theo, a gentle bear of a man, there's friendship with Bea at the local diner, and it was lovely to see how Chloë started to slot in.
Jo Thomas never fails to make me feel that I want to visit the location she's writing about. The town of Forêt des Esprits is very cold and yet so homely and welcoming and cosy. As always, there's a foodie element and here it's the maple syrup that is added to everything including pancakes at the diner and the new dishes that Chloë gets to work creating.
Thomas is one of my favourite authors and I'd read anything she writes. I devoured this book like a plate of the maple syrup covered pancakes that Chloë serves up and I closed the book with a smile on my face and a tear in my eye. Countdown to Christmas is heartwarming and utterly delightful and it's the perfect read for the festive season.
---
---
Jo Thomas worked for many years as a reporter and producer, including time at Radio 4's Woman's Hour and Radio 2's The Steve Wright Show
Jo's debut novel, The Oyster Catcher, was a runaway bestseller and won both the RNA Joan Hessayon Award and the Festival of Romance Best eBook Award. Her recent book Escape to the French Farmhouse was a #1 bestselling eBook and in every one of her novels Jo loves to explore new countries and discover the food produced there, both of which she thoroughly enjoys researching. Jo lives in Pembrokeshire with her husband and three children, where cooking and gathering around the kitchen table are a hugely important and fun part of their family life.