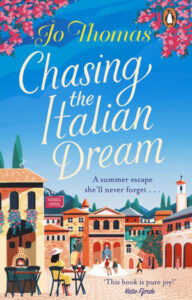 ShortBookandScribes #BookReview – Chasing the Italian Dream by Jo Thomas
I love a Jo Thomas book. They're always a lovely blend of travel and food. The latest is Chasing the Italian Dream which I'm reviewing today. I purchased this book myself.
---

---
A summer escape she'll never forget . . .

Lucia has worked hard as a lawyer in Wales, aiming for a big promotion she hopes will shortly come her way. Finally taking a well-earned break at her grandparents' house in southern Italy, the sunshine, lemon trees and her nonna's mouth-watering cooking make her instantly feel at home.

But she's shocked to learn that her grandfather is retiring from the beloved family pizzeria and will need to sell. Lucia can't bear the thought of the place changing hands – especially when she discovers her not-quite-ex-husband Giacomo wants to take it over!

Then bad news from home forces Lucia to re-evaluate what she wants from life. Is this her chance to carry on the family tradition and finally follow her dreams?

Perfect escapism from the author of Escape to the French Farmhouse and The Honey Farm on the Hill.
---

---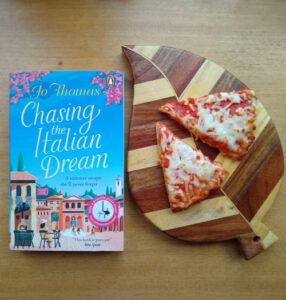 A new Jo Thomas book is always a highlight of the year for me and I was so looking forward to picking up Chasing the Italian Dream. After all, it's set in Italy which is one of my favourite places. It's no surprise that I loved it.
Lucia is a business lawyer in Wales and as the story begins she's about to head off for her annual holiday with her father's family in a small town near Naples. She's hoping to hear about a big promotion while she's there. In the meantime, she's looking forward to spending time with her grandparents, Nonno and Nonna, and eating pizzas in Nonno's pizzeria, a traditional restaurant with the role of the pizzaiolo being passed down from father to son. What she isn't expecting is to run into her estranged husband, Giacomo, and to end up trying to save the pizzeria.
There's a lot of girl power in this book. It's not traditional, especially in small towns, for a woman to be a pizzaiola and so Lucia finds herself up against it but loving making the pizzas the restaurant is known for. I loved how she just got on with it and also found herself empowering other women too. The story is lovely, a real sense of Lucia going back to her Italian roots and learning exactly what she wants from her life.
As always, the two things that stand out the most are the food and the setting. Thomas is an expert at describing dishes and ingredient combinations that set my mouth watering and mean I can practically smell the fresh tomatoes that have grown under the Italian sun, or smell the cheese bubbling away on the tops of the pizza. She also deftly ensures that I want to visit whichever setting she's writing about and she put me right there in the heart of the town with Angelo serenading everyone with his opera singing as each new day dawns, the farms that supply fresh food to the restaurant not too far away.
I thought Chasing the Italian Dream was a wonderful read, dreamy in fact! I've been fully immersed in Southern Italy whilst wondering where Thomas will take me next. I can't wait.
---
---
Jo Thomas worked for many years as a reporter and producer, first for BBC Radio 5, before moving on to Radio 4's Woman's Hour and Radio 2's The Steve Wright Show.
In 2013 Jo won the RNA Katie Fforde Bursary. Her debut novel, The Oyster Catcher, was a runaway bestseller in ebook and was awarded the 2014 RNA Joan Hessayon Award and the 2014 Festival of Romance Best Ebook Award. Jo lives in Pembrokeshire with her husband and three children.