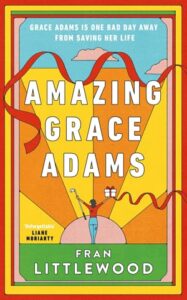 ShortBookandScribes #BookReview – Amazing Grace Adams by Fran Littlewood
Amazing Grace Adams by Fran Littlewood will be published by Penguin Michael Joseph on 19th January in hardcover, eBook and audiobook. My thanks to the publishers for the proof copy of the book.
---

---
'Sometimes I have so much rage it scares me . . .'
__________

Grace Adams is one bad day away from saving her life.

One hot summer day, stuck in traffic on her way to pick up the cake for her daughter's sixteenth birthday party, Grace Adams snaps.

She doesn't scream or break something or cry. She simply abandons her car and walks away.

But not from her life – towards it. To the daughter who won't live with her anymore and has banned her from the party. To the husband divorcing her. Towards the terrible thing that has blown their family apart . . .

Today she'll show her daughter that no matter how far we fall we can always get back up again. Because Grace Adams was amazing. Her husband and daughter once thought so. They and the world might have forgotten.

But Grace is about to remind them . . .
---

---
Grace is on her way to pick up a birthday cake she has ordered for her daughter's 16th birthday party. Her journey is beset with problems and in the middle of a traffic jam and sweating like mad, Grace simply abandons her car in the middle of the road and sets off walking to the cake shop. As I was reading I was thinking it reminded me of Falling Down, the film where Michael Douglas goes on a raging rampage around town and one which I often jokingly reference if things get too much, and then in the acknowledgements the author states that it was in fact an influence.
In sections from the past, everything that has led Grace to this point is unpicked, all those times she has felt lost, out of place and irrelevant. Now, in her mid-40s, she's witnessing a shift in other people's perceptions of her and she's starting to feel inconsequential and invisible. Where her daughter, Lotte, is full of life and just starting out, Grace feels the exact opposite.
I really enjoyed this book. I loved Grace's strength and determination and her behaviour, if not always right, felt totally understandable. She is each and every woman out there, especially those in the dark depths of the perimenopause. Just when I thought I had the measure of her there was a plot point that took me completely by surprise and added an extra layer to Grace's character and to the story as a whole. It's a beautifully written debut by Fran Littlewood, astute and intuitive, knowing and intelligent. I think I preferred the sections in the past which were more of a family drama over the years, rather than the immediate wham bam feel of the 'now' section but as a whole it's all very well executed and extremely relatable. I thought it was a moving story of life, loss and love and I'm excited for what Littlewood writes next.
---
---
Fran Littlewood has an MA in Creative Writing from Royal Holloway, University of London. She was taught by Andrew Motion and passed with distinction. Before that she worked as a journalist, including a stint at The Times. She lives in north London with her husband and their three girls. AMAZING GRACE ADAMS is her debut novel.