ShortBookandScribes #BookReview – All the Wrong Places by Joy Fielding @ZaffreBooks #AllTheWrongPlaces
I'm very happy to reviewing this fabulous book today. My thanks to Tracy Fenton of Compulsive Readers for the place on the tour and to Zaffre Books for the copy of the book for review purposes.
---

You always know who you're meeting online . . . don't you?

Turning to online dating each with their own reasons, four women download an app, hoping to swipe their way to love and happiness.

But not everyone is who they seem online. Hidden behind a perfect smile and charming humour, he appears to be the perfect date. But the night he has planned is unlike any other.

The clock is ticking, and for one woman, this date might just be her last . . .
---
This is my first Joy Fielding book and I'm now wondering what I've been missing out on. I thought All The Wrong Places was just brilliant and totally unexpected in many ways.
The blurb hints at the story but there's so much more there. It's essentially a story of online dating, the highs and the lows of it and how people can use it to hide their real selves. But although I was expecting a thriller, this is more a family and friendship drama with a serial killer aspect thrown in.
Paige is the main character, a young woman who has been betrayed by her boyfriend. She's moved back in with her mother, Joan, and I thought both women were fantastic. Then there's Chloe, Paige's very best friend who's struggling with her unfaithful husband, and Heather, Paige's really quite unpleasant cousin. This is a book which has a strong focus on women and to be honest the men mostly come out of this story very badly (and rightly so in this case).
What I also didn't expect was the dry humour. This is a book that had me smiling and giggling quite a lot. It's not a funny story but I found so many aspects amusing, such as Joan's first attempts at online dating at 70 and Paige's relationship with her mother.
I just found this such an engaging book. And that ending! I was wondering how it was all going to be wound up and I only just worked it out ahead of the story. I thought it was so clever and such a surprise. I'd most definitely read another book by Joy Fielding as I really like her style.
---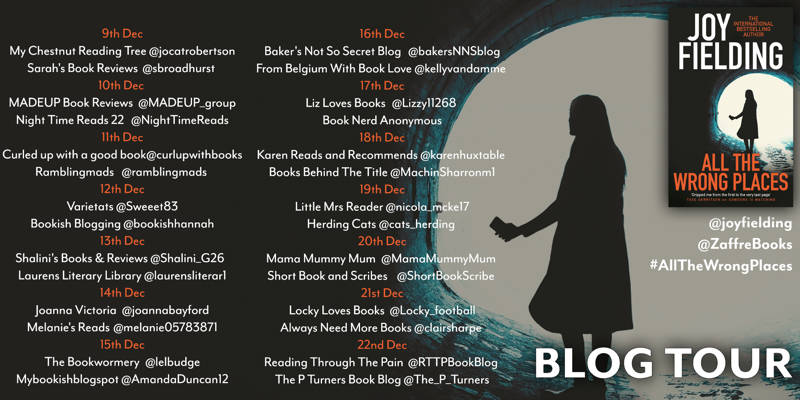 ---

Joy Fielding is the author of the New York Times bestsellers StillLife, Charley's Web, Heartstopper, See Jane Run, and other acclaimed novels. She divides her time between Toronto and Palm Beach, Florida.