ShortBookandScribes #BookReview – All the Lonely People by Mike Gayle
I'm so pleased to be sharing my thoughts about All the Lonely People by Mike Gayle today. I really love this author's writing. My thanks to Jenny Platt from Hodder & Stoughton for the proof copy of the book and the place on the tour.
---

---
Hubert Bird is not alone in being alone.

He just needs to realise it.

In weekly phone calls to his daughter in Australia, widower Hubert Bird paints a picture of the perfect retirement, packed with fun, friendship and fulfilment.

But Hubert Bird is lying.

The truth is day after day drags by without him seeing a single soul.

Until, that is, he receives some good news – good news that in one way turns out to be the worst news ever, news that will force him out again, into a world he has long since turned his back on.

Now Hubert faces a seemingly impossible task: to make his real life resemble his fake life before the truth comes out.
Along the way Hubert stumbles across a second chance at love, renews a cherished friendship and finds himself roped into an audacious community scheme that seeks to end loneliness once and for all . . .

Life is certainly beginning to happen to Hubert Bird. But with the origin of his earlier isolation always lurking in the shadows will he ever get to live the life he's pretended to have for so long?

From bestselling author Mike Gayle, All the Lonely People is by turns a funny and moving meditation on love, race, old age and friendship that will not only charm and uplift, but also remind you of the power of ordinary people to make an extraordinary difference.
---
---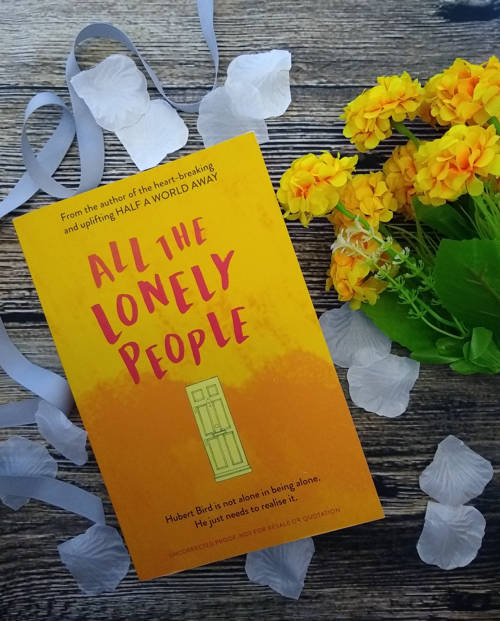 Hubert Bird, you complete and utter legend!
There are some characters that stay with me, most often those who have lived a full life within the pages of their story, and Hubert is one of those characters. As the book begins Hubert is 84 and living alone with his cat and only real companion, Puss. A knock at the door brings young Ashleigh and her daughter, Layla, into his life and from thereon things are going to change. Apart from the weekly calls from his daughter, Rose, in Australia, Hubert realises he has been very lonely.
There are two strands to the story. One of them is what is happening to Hubert now, him dealing with his loneliness and finding ways to alter that. The other strand starts in 1958 when Hubert left Jamaica to come to England for that much lauded 'better life'. This branch of the story then follows him through marriage, family life and brings him right up to date. The threads are woven together brilliantly.
This is the most beautiful book. Mike Gayle has hit the spot completely with not only his characters but also how he looks at racial issues, the way the Windrush generation were treated, and the fact that Hubert always felt like the odd one out in this country. My heart broke for him several times and tears were shed, and that is how I know this is probably one of my top reads of the year, because it made me feel something, it made me care about the characters. The author is not afraid to tackle some difficult issues such as mixed-race relationships, loss of loved ones, and family issues, but somehow, throughout it all, he also manages to write an absolutely charming and uplifting story.
This heart-warming tale about community, friendship and the power of people really is a stunner and I defy anyone not to want to become Hubert's friend. Hurrah for Hubert!
---

---
---

---
Mike Gayle was born and raised in Birmingham. After graduating from Salford University with a degree in Sociology, he moved to London to pursue a career in journalism and worked as a Features Editor and agony uncle. He has written for a variety of publications including The Sunday Times, the Guardian and Cosmopolitan.
Mike became a full time novelist in 1997 following the publication of his Sunday Times top ten bestseller My Legendary Girlfriend, which was hailed by the Independent as 'full of belly laughs and painfully acute observations,' and by The Times as 'a funny, frank account of a hopeless romantic'. Since then he has written thirteen novels including Mr Commitment, Turning Thirty and The Man I Think I Know. His books have been translated into more than thirty languages.