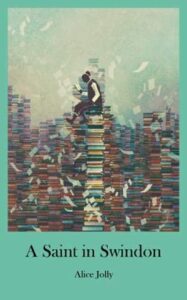 ShortBookandScribes #BookReview – A Saint in Swindon by Alice Jolly
A Saint in Swindon by Alice Jolly is published by Fairlight Books in paperback and eBook. I purchased my copy.
---

---
When a stranger arrives in town, with a bulging blue bag and a whiff of adventure, the neighbourhood takes notice. When he asks for his meals to be sent to his room and peace and quiet for reading, curiosity turns to obsession.

Each day he stays there, locked in his room, demanding books: Plath, Kafka, Orwell, Lawrence, Fitzgerald, James, Bronte (the eldest), Dickens, Dumas, Kesey – on and on, the stranger never leaving his room. Who exactly is he? What is he reading? And will it be able to save us from the terrible state of the world?

Written by award-winning author Alice Jolly, and based on an idea by the book lovers of Swindon town, this funny and, ultimately, dystopian tale, reminds us of the importance of literature in an increasingly dark world.
---

---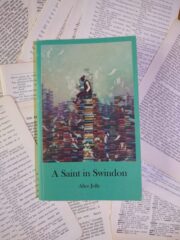 What a little gem A Saint in Swindon is. I'm not sure at what point a short story becomes a novella but in only 78 pages of text Alice Jolly has created a whole world that I was able to lose myself in.
A stranger arrives in Swindon and takes up residence in the narrator's B&B. He's an enigma, never coming out of his room, taking all his meals in there and simply spending his days reading. The dream! The mystery man devours book after book and ignites everybody's imagination. Who is he? Why is he reading so much? Why does nobody ever see him? Soon, people are treating him as a kind of saviour.
The story is set in the very near future in 2030 but it's an almost unrecognisable world as the effects of climate change wreak havoc on everyday life. The reader is treated to myriad literary references as the community becomes fixated on the stranger and what he is reading. I loved the parallels between the fiction and the reality for the characters and how the plots of the books seemed to mirror what was happening in their lives.
Not only is this book engaging but it has so many layers to it and I think there's a lot more to be considered within it than there at first seems. Taking it at face value it's a wonderful tale of the power of books in a changing landscape, but underneath there is so much more and this would be an amazing book group choice.
I really enjoyed A Saint in Swindon. It's a fabulous little book, with fascinating characters and a clever plot.
---
---
Alice Jolly's most recent novel Mary Ann Sate, Imbecile was published in 2018 by Unbound. It was runner up for the Rathbones Folio Prize, was on the longlist for the Ondaatje Prize and was also selected as a Walter Scott Prize recommended novel. Alice has also won the Pen Ackerley Prize for her memoir and the V.S. Pritchett Memorial Prize for one of her short stories. She teaches creative writing at Oxford University.