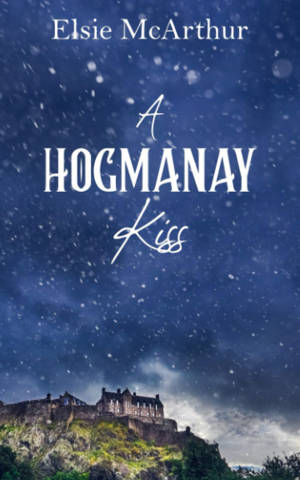 ShortBookandScribes #BookReview – A Hogmanay Kiss by Elsie McArthur
I'm sharing my thoughts today about A Hogmanay Kiss by Elsie McArthur. This is a sequel to The Back Up Plan but can also be read as a standalone read. I bought my copy from the author's Etsy shop where you can buy signed copies of all three of her books.
---

---
Marsaili and Will's happily ever after isn't turning out exactly like they planned…

Eighteen months after getting back together, and struggling to find a forever home in their small Highland community, they're still living in the upstairs bedroom of Marsaili's parents' croft. A chance to get away from it all for a romantic Christmas break is just what they need – Marsaili's brother is getting married, and they're going to spend two weeks in Edinburgh for the celebrations.

But when wedding mishaps, a flirtatious bridesmaid and past insecurities threaten to derail their plans, the idyllic festive getaway Marsaili and Will have been dreaming of could make them… or break them.

Reunite with all your favourite characters for a Christmas holiday they'll never forget, in this fun, feel-good, festive follow up to 'The Back Up Plan'.

This novella is a sequel, but may also be enjoyed as a stand-alone story.
---

---
The Back Up Plan by Elsie McArthur was one of my favourite reads of 2020 so I was thrilled to be able to catch up with Marsaili and Will again in this sequel novella.
We join the characters eighteen months after the end of the previous story when they are still looking for their own home and in the meantime are living at Marsaili's parents' croft in the Scottish Highlands. This doesn't provide our lovebirds with much privacy, something that made me laugh pretty early on. They're hoping their trip to Edinburgh over Christmas and New Year for the wedding of Marsaili's brother will provide them with some alone time…….the best laid plans and all that.
It was such a treat to meet all the characters again. Marsaili is as fiery as usual and somewhat insecure, but she's also incredibly kind and likeable. Will is a delight as before and I always think an author has done a fabulous job when they make their hero so delectable. I really enjoyed all the wedding celebrations too as the bride is Indian and so the ceremonies were multi-cultural.
Marsaili and Will's original road to true love was bumpy and a snooty bridesmaid and some misunderstandings send them down another rocky road, but I'm pleased to say that the ending didn't let me down and the ripples were smoothed out most satisfactorily. I closed the book with a smile on my face.
I loved this return visit to Scotland and I so enjoyed the relationship between the two main characters. A Hogmanay Kiss is a lovely read for this time of year, written with such warmth. It's pure joy.
---
---
Elsie McArthur was born and brought up in Glasgow, a city she still holds dear to her heart. After meeting her now-husband, they moved North to the land of whisky and shortbread, and now live in the rural wilds of Speyside in the Scottish Highlands, along with their two children, a couple of badly behaved dogs and an exceptionally lazy cat.
Elsie has worked as a primary school teacher for over a decade now, and after years of jotting down stories she began writing more seriously during her first period of maternity leave.
'The Back Up Plan' is her first novel, and was released in December 2019. A follow up novella – 'A Hogmanay Kiss' – is now available. Her second, 'Love, on the Rocks' – a tale of love, loss, and second chances set on the remote Scottish island of Inniscreag – came out on August 20th 2020.