#PublicationDay #BookReview – The Hidden Child by Louise Fein #BlogTour
It's my stop today on the blog tour for The Hidden Child by Louise Fein. It's also publication day so congratulations Louise! My thanks to Head of Zeus for the proof copy of the book and the place on the tour.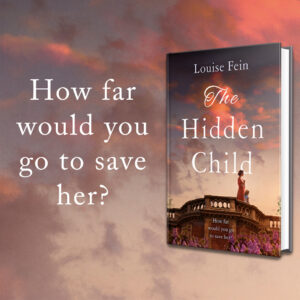 ---

---
From the outside, Eleanor and Edward Hamilton have the perfect life, but they're harbouring a secret that threatens to fracture their entire world.

London, 1929.

Eleanor Hamilton is a dutiful mother, a caring sister and an adoring wife to a celebrated war hero. Her husband, Edward, is a pioneer in the eugenics movement. The Hamiltons are on the social rise, and it looks as though their future is bright.

When Mabel, their young daughter, begins to develop debilitating seizures, they have to face an uncomfortable truth: Mabel has epilepsy – one of the 'undesirable' conditions that Edward campaigns against.

Forced to hide their daughter away so as to not jeopardise Edward's life's work, the couple must confront the truth of their past – and the secrets that have been buried.

Will Eleanor and Edward be able to fight for their family? Or will the truth destroy them?
---

---
The Hidden Child of the title is Mabel, the young daughter of Eleanor and Edward Hamilton. When we are introduced to Mabel she is a happy little girl, enjoying life. For any parents, the development of her epileptic seizures would be devastating but Eleanor and Edward are supporters of the Eugenics movement, in other words they support many quite radical ways of trying to eradicate hereditary illnesses and the lower classes from society. Edward works in this field and is ambitious. Eleanor has her own reasons for being in favour of the movement.
In its most simplistic form the movement must have seemed like a good idea but it is, of course, quite a horrific prospect and one that had quite catastrophic consequences. Where Mabel is concerned, Edward cannot be seen to have such an ill daughter, whereas Eleanor is more focused on her child as an individual. It's such an intriguing storyline from Louise Fein.
I didn't realise the Eugenics movement had been so prominent in the UK in the 1920s. The author wrote this book from her own experiences and the fact that 100 years ago her daughter would have been banished out of sight in the same way Mabel was is a sobering thought.
There are some great characters in this book. Eleanor and Edward are well-written and I particularly liked Eleanor's sister, Rose, and her best friend, Sophie, who were a great support to her. There are some really pompous men to roll your eyes at too! This is a hefty book at 500 pages and the first two-thirds or so are spent building up to the faster paced latter third. That build up is needed to really show the progression of Edward in his beliefs alongside the deterioration of Mabel. This is an interesting book in terms of the social history involved too. Set in 1928, the effects of the First World War are still being felt, the banking crash is coming and the National Socialist Party is on the rise in Germany.
This is a moving tale and one which provided food for thought and poses the question "what would I do?", leading up to what I thought was a very satisfactory ending. This is a story that will stay with me, just like Fein's first book, People Like Us.
---

---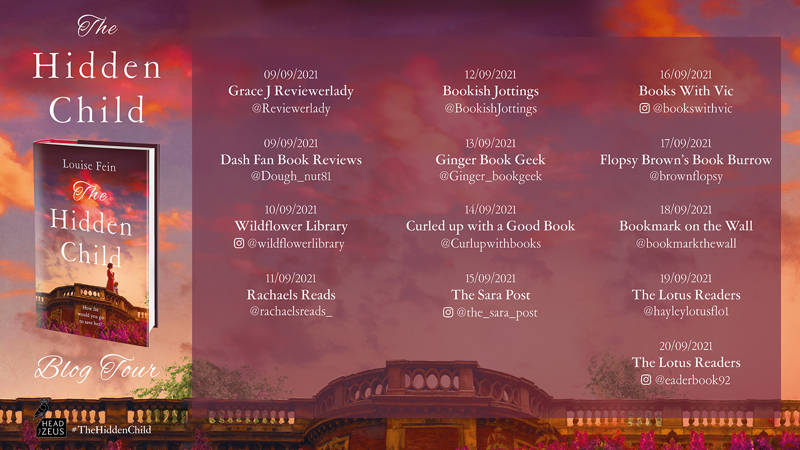 ---
---
Louise Fein was born and brought up in London. She harboured a secret love of writing from a young age, preferring to live in her imagination than the real world. After a law degree, Louise worked in Hong Kong and Australia, travelling for a while through Asia and North America before settling back to a working life in London. She finally gave in to the urge to write, taking an MA in creative writing, and embarking on her first novel, Daughter of the Reich (named People Like Us in the UK and Commonwealth edition). The novel was inspired by the experience of her father's family, who escaped from the Nazis and arrived in England as refugees in the 1930's. Daughter of the Reich/People Like Us is being translated into 11 foreign languages, has been shortlisted for the 2021 RSL Christopher Bland Prize, the RNA Historical Novel of the year Award 2021 and long listed for the Not The Booker Prize 2020.
Louise's second novel, The Hidden Child, will be published in the Autumn of 2021. Louise lives in the beautiful English countryside with her husband, three children, two cats, small dog and the local wildlife who like to make an occasional appearance in the house. Louise is currently working on her third novel.
For more information, go to https://www.louisefein.com and sign up to Louise's newsletter. She also posts regularly to her blog, or follow her on Facebook, Twitter or Instagram.