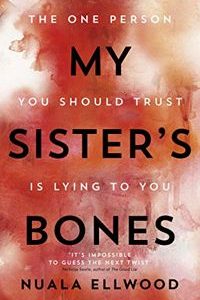 My Sister's Bones by Nuala Ellwood
ARE YOU BRAVE ENOUGH TO GO BACK?

Kate Rafter is a successful war reporter. She's the strong one. The one who escaped Herne Bay and the memories it holds. Her sister Sally didn't. Instead, she drinks.

But when their mother dies, Kate is forced to return to the old family home. And on her first night she is woken by a terrifying scream.

What secret has Kate stumbled upon?
And is she strong enough to uncover the truth . . . and make it out alive?
After a short prologue we are thrown straight into the action in My Sister's Bones.  Journalist, Kate Rafter, has returned from Syria and is struggling to cope after what she saw whilst reporting on the events there.  She has been detained at the police station due to some disturbing behaviour, her sister, Sally, is a long-term alcoholic and their mother has died, so Kate has returned to Herne Bay, the place where she suffered at the hands of her violent father.
Kate is definitely what I would call an unreliable narrator.  I never knew, for a large part of this book, whether I could trust what she was telling me or not.  The blurb is quite sparse and I was never entirely sure where the story was going.  All of a sudden, around the half way point, there was an unexpected turn of events and the story went in a different direction.  As the end approached I had an idea about what was going to happen but even that went much further that I could have imagined.
This is a really great psychological thriller, and one which I thought was a bit different to some of the others out there. The pace never slowed and there are plenty of twists and turns which kept me interested all the way through.  I was so engrossed at one point that I nearly missed my stop on the tram.
This is an extremely accomplished debut novel.  I'm looking forward to seeing what Nuala Ellwood does next as I think she's a skilled writer and obviously very good at plotting a compelling novel.
With thanks to the publishers and Amazon Vine for the review copy.  The ebook of My Sister's Bones is available now and the hardback will be published by Penguin on 9th February 2017.