#bookreview – Too Close to Breathe by Olivia Kiernan @LivKiernan @riverrunbooks #RandomThingsTours #blogtour
I'm delighted to be posting my review of Too Close to Breathe today as part of the blog tour. Thank you to Anne Cater of Random Things Tours for asking me to be a part of it.
FIND THE KILLER WHO LIKES TO PLAY DEAD
A bold, brilliant new crime thriller – perfect for fans of Tana French, Jane Casey and Gillian Flynn

TOO SOON TO SEE

Polished. Professional. Perfect. Dead. Respected scientist Dr Eleanor Costello is found hanged in her immaculate home: the scene the very picture of a suicide.

TOO LATE TO HIDE

DCS Frankie Sheehan is handed the case, and almost immediately spots foul play. Sheehan, a trained profiler, is seeking a murderer with a talent for death.

TOO CLOSE TO BREATHE

As Frankie strives to paint a picture of the killer, and their victim, she starts to sense they are part of a larger, darker canvas, on which the lines between the two blur.
Too Close to Breathe is available now in ebook and hardback.
---

Too Close to Breathe is a book I was eager to read and I wasn't disappointed by it. It did take me a little getting into and I think it's because it felt a bit like I had missed something about Detective Chief Superintendent Frankie Sheehan's past. It obviously was something major and was shaping the current story. However, it was drip-fed to me as I read on and I realised that it was actually a really good way of giving me information, not only about Frankie, but about the case she was working on before.
Before what, you may ask. Well, before Dr Eleanor Costello is found hanged at her home and before Frankie starts to wonder if it really is suicide or whether there's more to it.
This is a very well written story, a cat and mouse game between Frankie and a killer. She's one of those people who throw themselves into every situation with little regard for her own safety, which makes for a very exciting read, even if I did want to shout at my book and tell her not to do something so rash. She's a very intuitive cop, working on her instincts and what they tell her about a person or a case. Whilst her team support her well, she seems to me to be someone who works better alone as she's a bit of a maverick, and apart from fellow police officer, Baz, and her boss, Clancy, the rest of the team are more background characters. I guess they could be brought more to the forefront of future novels, as I believe this is the first in a series to feature DCS Frankie Sheehan.
Too Close to Breathe is quite a thrilling read, fast-paced in some ways and in others more of a slow reveal. One of the things I particularly enjoyed was the dark web element to the story, something which is current and relevant. In fact, dark is a word I would use to describe the whole book. It's very edgy, well-plotted and an excellent debut crime thriller.
---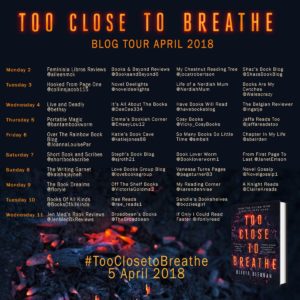 ---

Olivia Kiernan is an Irish writer living in the UK and author of crime thriller, TOO CLOSE TO BREATHE. She was born and raised in County Meath, near the famed heritage town of Kells and holds an MA in Creative Writing awarded by the University of Sussex.