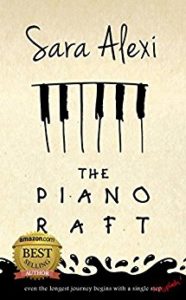 #bookreview – The Piano Raft by Sara Alexi @SaraAlexi
I'm delighted to be reviewing this lovely book today.

The Piano Raft is an unforgettable, heart-warming story about love, a piano and a hand-built raft that will have you enthralled, laughing and sitting on the edge of your seat as you sail (precariously) upon the rivers and canals from Yorkshire to London.

Neil, a disillusioned art student, wakes to find himself drifting down a canal on a raft, accompanied by a small fluffy dog, to the sound of his girlfriend's piano being played by a stranger.

Through the fog of his hangover, he tries to piece together the events of the night before which brought him to this curious and unexpected situation, and to work out what on earth to do next.

The current is carrying him swiftly on towards the capital, where Kim, the piano's owner, has recently started a new life.

As Neil's journey continues, and whilst trying to conjure the courage to win Kim back, his story captures the hearts and imaginations of the country as locals in the towns he passes and national media alike follow this unlikely hero on his equally unlikely adventure.

How will these extraordinary circumstances challenge and change a man whose life has been stuck in first gear, and who now needs to decide how far he will go for the woman he loves?

The current is swift, and there's no turning back…
When I was asked if I was interested in reviewing this book it immediately captured my imagination. The idea of a man travelling on the canals to London on a raft with a piano and a rocking chair to win back his girlfriend is such an engaging one.
This is my first book by Sara Alexi and I enjoyed it immensely. It's like the Harold Fry of canals. Neil sets off on his journey and meets so many interesting people along the way. He takes his dog, Bushy-Mush with him and ends up with a kitten called Fuzzy-Pants too.
The Piano Raft is such an endearing story. It's all about finding out what's important to you and going out and getting it, but not trampling all over everybody to do so. Neil is somebody who has been drifting and when his girlfriend, Kimberley, leaves him for a job in London he's upset but it's when he gets drunk one night and the next morning finds himself drifting away on the raft that his journey (hopefully) back to Kim begins.
I liked Neil as a character, in fact I liked everybody in this lovely book. Sleet is his best friend and his partner in apathy but still hugely likeable. And the people Neil meets on his journey are so colourful and interesting, particularly Quentin.
Sara Alexi has a lovely writing style. At no time did this book get overly sentimental but yet it was so charming. I'm so glad I decided to read it as it was a real pleasure.
With thanks to the author and Twinkle Troughton for the review copy. The Piano Raft is available now in ebook and paperback.
---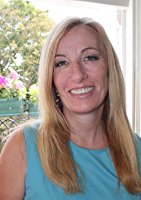 Sara Alexi is from Oxford in England but now splits her time between there and a tiny rural village in the Peloponnese, in Greece, where she is (very slowly!) renovating a ruined stone farmhouse, whilst observing the Greek way of life and absorbing the culture, to enrich her vision for both writing and painting.
She wrote her first novel THE ILLEGAL GARDENER in 2012 with massive success and The Greek Village series was born which allowed her to became a full time writer over night.
Sara began writing later in life. In school English lessons were a time of confusion, books indecipherable hieroglyphics. Dyslexia was not well understood then and no support was available. The joy of reading and writing were cancelled by the teacher's red pen …
Despite her dyslexia Sara qualified as a psychotherapist and ran her own practice for years. Her artistic nature was, at that time, confined to painting and she exhibited widely.
In a casual conversation with a client she discovered that Agatha Christie, Jules Verne and Hans Christian Andersen were all dyslexic, and Sara's perspective changed. The world of fiction opened to her with this shift in perception and she has been a prolific writer ever since.
Her 'Greek Village Series' has been very well received and provides a keenly observed, compassionate insight into the Greek people and culture, and the human condition in general.
Author picture and bio taken from the author's Amazon page.