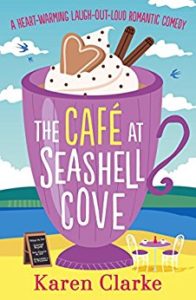 #bookreview – The Café at Seashell Cove by Karen Clarke @karenclarke123 @bookouture
When Cassie Maitland needs a holiday from her glamorous but stressful job in event management, she escapes home to gorgeous Seashell Cove, where her family's cosy café sits perched on the cliffs above sparkling waves and golden sand.

But a lot has changed while Cassie's been away: her parents have transformed their tired café into a welcoming haven, her friends Meg and Tilly have whole new lives, and old flame Danny's twinkling eyes and winning smile make Cassie feel even more flustered than they used to.

Keen to throw herself back into local life, Cassie starts to run themed events – including a not entirely successful cat-café day, complete with dozens of felines. Luckily Danny is always around to lend a helping hand, and Cassie soon begins to wonder if her life in London was really all she made it out to be…

Could a new start in Seashell Cove be exactly what Cassie needs?
You can buy the book now in ebook and paperback.
---

I loved Karen Clarke's Beachside series so when I knew she had a new series of books starting, the Seashell Cove series, it was a bit of a no brainer as to whether I would want to read them or not.
The first book is The Café at Seashell Cove in which we meet Cassie Maitland. She's a high-flying events planner, always eating out in posh restaurants and basically living the highlife – or so think her parents. In fact, the life of an events planner in London is not all it's cracked up to be and Cassie has just been fired from her job. She ends up back with her parents, feeling under pressure to be something she's not, and feeling generally rather stressed.
The book gets off to a funny start as she arrives back home to a bit of a surprise which made me smile straightaway. But I think this is a more serious book than the Beachside ones. It didn't make me hoot with laughter and maybe it's because Cassie is a little bit unhappy with her life and that came through when reading her story.
She meets up with old friends, Tilly and Meg, and also Danny Fleetwood, who she was at school with – kind of the one who got away. But do they fit in with her fancy new life? I could only hope that Cassie would see sense and realise that you don't always have to do what is expected of you.
There are some parts that made me smile, some that were heart-warming, some that were fun. I enjoyed Cassie's attempts at putting her parents' café 'on the map' with board game evenings, a cat café and fancy tea and coffee tasting. But I particularly enjoyed her return to art, something that she had forgotten she loved. The simplest pleasures are really the best for Cassie, if only she could let herself calm down and do the things she enjoys the most.
The Café at Seashell Cove is a lovely read. It didn't take the turns I expected but I like that it surprised me. I found I looked forward to picking it up and reading a bit more and the ending was absolutely lovely. I'm now looking forward to meeting up with Meg again in the Bakery at Seashell Cove. Karen Clarke writes the most wonderful stories in the most wonderful settings, and Seashell Cove is just delightful.
---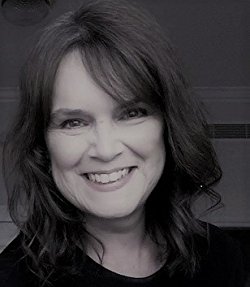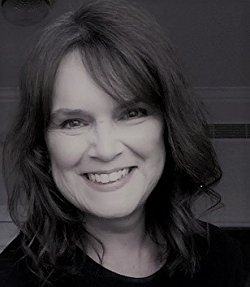 After giving up her job as a library assistant, Karen now writes full-time. She's had over 300 stories published in women's magazines in the UK and abroad, and has written three paranormal romantic comedies, published by Little, Brown/Corsair. When she's not writing she reads avidly, walks dogs at her local rescue centre, and is eagerly awaiting the next season of The Walking Dead. She lives in Buckinghamshire with her husband and three grown-up children.