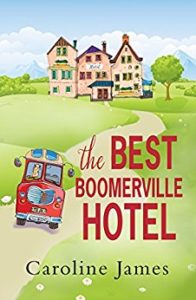 #bookreview – The Best Boomerville Hotel by Caroline James @CarolineJames12 @RubyFiction @ChocLituk @rararesources #blogtour
Welcome to my stop on the blog tour for The Best Boomerville Hotel by Caroline James. Thank you to Rachel Gilbey from Rachel's Random Resources and Ruby Fiction for the place on the tour and the review copy.
I'll be sharing my review with you today but first, let's see what it's all about.

Let the shenanigans begin at the Boomerville hotel …

Jo Docherty and Hattie Contaldo have a vision – a holiday retreat in the heart of the Lake District exclusively for guests of 'a certain age' wishing to stimulate both mind and body with new creative experiences. One hotel refurbishment later and the Best Boomerville Hotel is open for business!

Perhaps not surprisingly Boomerville attracts more than it's fair share of eccentric clientele: there's fun loving Sir Henry Mulberry and his brother Hugo; Lucinda Brown, an impoverished artist with more ego than talent; Andy Mack, a charming Porsche-driving James Bond lookalike, as well as Kate Simmons, a woman who made her fortune from an internet dating agency but still hasn't found 'the One' herself.

With such an array of colourful individuals there's bound to be laughs aplenty, but could there be tears and heartbreak too and will the residents get more than they bargained for at Boomerville?
The Best Boomerville Hotel Links:
---
Back in December 2016, I read Caroline James' novella, Jungle Rock. I said then that I was looking forward to Boomerville (as it was then called) as I was eager to meet some of the characters again.
Fast forward to March 2018 and The Best Boomerville Hotel. It features Jo and Hattie, long time friends, who run Boomerville, a hotel in the Lake District which caters for people of a certain age, Baby Boomers, who are those people born just after the Second World War. Jo has recently changed the hotel from a perfectly ordinary one to one which has all sorts of courses going on, from everyday things like creative writing and pottery, to the slightly more unusual such as clairvoyance and Shamanism.
It's all great fun really and add to the mix characters such as the Mulberry brothers, Sir Henry and Hugo, all jolly hockey sticks types and quite lecherous in a fairly nice way (if you know what I mean), and it's all very enjoyable to read about.
There's a more serious side too, as some of the characters come to Boomerville to try and find happiness after a difficult past, such as Kate Simmons. She meets the rather suave Andy, but is he all he's cracked up to be? You'll just have to read it to find out.
If I'm honest, I was expecting more laugh out loud moments. There are plenty of capers and lots of fun though. It's a light and easy read, and quite a heart-warming one too.
The Best Boomerville Hotel is a great book and I enjoyed it a lot. I think the hotel would be a fantastic place to go and stay at and you couldn't wish for a better welcome from Jo and Hattie. Hattie, in particular, is a fabulous creation, with her lipsticks and rolling pin stuck in her bosom ready for action (Hugo's hands do tend to wander a little, hence the rolling pin). I do think the eclectic characters are what make this novel.
Caroline James has a lovely warm writing style. I hope it won't be the last we see of the Boomerville Hotel.
---
---

Caroline James has owned and run businesses encompassing all aspects of the hospitality industry, a subject that features in her novels. She is based in the UK but has a great fondness for travel and escapes whenever she can. A public speaker, consultant and food writer, Caroline is a member of the Romantic Novelist's Association and writes articles and short stories and contributes to many publications.
Her debut novel, Coffee, Tea, The Gypsy & Me is set in North West England, at the time of a famous gypsy horse fair.  The book went straight to number three on Amazon and was E-book of the Week in The Sun.
So, You Think You're A Celebrity…Chef? was runner up the Winchester Writers festival for best TV Drama and takes a light-hearted look at the world of celebrity chefs as they battle it out for fame and fortune. Coffee, Tea, The Caribbean & Me was runner up at The Write Stuff, LBF, 2015 and is an Amazon best-seller and top recommended read by Thomson Holidays. Jungle Rock, a romcom novella set in Australia, revolves around a TV game show.
In her spare time, Caroline can be found trekking up a mountain or relaxing with her head in a book and hand in a box of chocolates.