#bookreview – Literary Wonderlands edited by Laura Miller @modernbooks @alisonmenziespr
Thank you to Alison Menzies and Modern Books for sending me a copy of Literary Wonderlands for review. Here's what it's about:

Imaginary worlds have captivated readers since the first works of literature. Lovingly researched and beautifully produced, Literary Wonderlands explores the timeless, captivating features of literature's greatest fictional worlds and the minds that created them. The book is comprised of nearly 100 sections, each of which details the plot of a famous fantasy world, the historical circumstances that surrounded its production, the author's inspiration, and the place it holds in the public imagination. Roaming from classic tales including C.S. Lewis' The Chronicles of Narnia to Philip Pullman's His Dark Materials, this truly global collection chronicles over two thousand years of literary creation. Accompanied by stunning visuals that elucidate the production of each work, Literary Wonderlands is an enchanting read for anyone who has ever been transported to another place through the power of the written word
And if it appeals to you then the hardback is available now.
---
Literary Wonderlands, edited by Laura Miller, is a fascinating look at "100 of the most perfectly imagined fictional worlds". In five sections we are treated to a look at these worlds, some of which have become infamous, some of which are less well-known.
The five sections are in date order as follows: –
Ancient Myth & Legend – up to 1700
Science & Romanticism – 1701-1900
Golden Age of Fantasy – 1901-1945
New World Order – 1946-1980
The Digital Age – 1981-present
The book is glossy and full of beautiful photos and illustrations, not to mention the huge amount of information about the books, the stories, the authors and the background. This book is any book lover's dream.
Some of my favourite entries are for The Water-Babies, The Wizard of Oz, The Chronicles of Narnia, Harry Potter and The Eyre Affair, some of the most well-known fictional lands from my childhood and adult reading. Here's an example of the entry for The Wizard of Oz, with a gorgeous illustration drawn for the first edition of the book.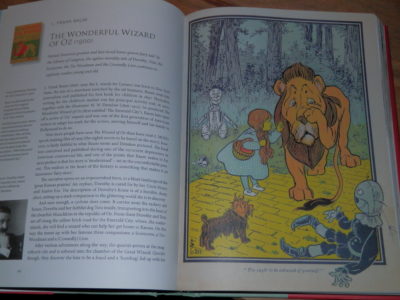 This really is a fascinating and beautiful book, ideal for any coffee table or bookshelf.
---

Laura Miller is the book's general editor. Co-founder of Salon.com, where she worked as an editor and writer for 20 years, she is currently a books and culture columnist at Slate. A journalist and a critic, her work has appeared in the New Yorker, Harper's, theGuardian, and the New York Times Book Review, where she wrote the "Last Word" column for two years. She is the author of The Magician's Book: A Skeptic's Adventures in Narnia and editor of theSalon.com Reader's Guide to Contemporary Authors.