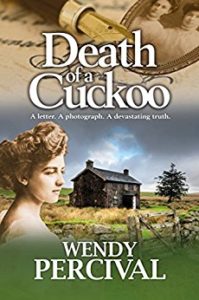 #bookreview – Death of a Cuckoo by Wendy Percival @wendy_percival @BrookCottagebks @SilverWoodBooks #extract
I'm so pleased to be taking part in a book blitz today for Death of a Cuckoo, which is an Esme Quentin novella by Wendy Percival. Genealogical fiction/mysteries are hugely appealing to me so I was delighted to get my hands on this book.
Genre: Cosy Mystery
Series: An Esme Quentin Short Read
Release Date: 6 March 2017
Publisher: sBooks
A letter. A photograph. A devastating truth.

When Gina Vincent receives a letter of condolence from a stranger following her mother's death, a photograph slipped inside reveals a disturbing truth – everything she's ever known is based on a lie. Shocked and disorientated, she engages genealogy detective Esme Quentin to help search for answers.

The trail leads to an isolated and abandoned property on the edge of Exmoor, once the home of a strict Victorian institution called The House of Mercy and its enigmatic founder, whose influence seems to linger still in the fabric of the derelict building.

As they dig deeper, Esme realises that the house itself hides a dark and chilling secret, one which must be exposed to unravel the mystery behind Gina's past.

But someone is intent on keeping the secret hidden. Whatever it takes.
I have a short extract for you, just to give you a taste of the writing and then please do read on for my review.
EXTRACT

I ran down the steps and squeezed my way down the slim passage. In the recess was a narrow door but it didn't match the faded, peeling paint of the remainder of the house's decoration. It was brighter, as though it had been protected from the elements. As I stepped closer, I realised that's exactly what had happened. Under my feet were pieces of broken planking. Until very recently, this doorway had been covered by a decorative panel and disguised. So who had uncovered it? It couldn't have been there at the viewing.
My Review
I absolutely love genealogical fiction and so was very attracted to Death of a Cuckoo. It's an Esme Quentin book and I didn't realise until just before I started reading it that there have been two other books featuring Esme. It didn't in any way affect my reading of Death of a Cuckoo though, which I enjoyed very much.
What's unusual about this book is that although it's an Esme Quentin book it's actually told by a character called Gina Vincent who engages Esme to help her with a shocking discovery that she has made after her mother's death. I guess that the author decided to do this because it's a novella and in a way it kind of fits in between the full length stories and allows the reader to view Esme from somebody else's point of view.
I really enjoyed reading this book. What I like about genealogical stories is the way that secrets and facts are uncovered and I particularly enjoy following the characters as they do their research. It really can be fascinating, even seemingly mundane things like going to the Register Offices to get copy birth, marriage or death certificates can be full of intrigue and mystique.
The story here isn't that unusual at its core, but it does have a slight twist to it. At around 106 pages it's a quick read and like a lot of novellas there wasn't quite as much for me to get my teeth into as I would like, but I thought it was well-written with an interesting set of characters. I'd definitely consider reading Wendy Percival's other books as I think there's a lot more about Esme Quentin for me to discover.
With thanks to the publishers and Brook Cottage Books for the review copy. Death of a Cuckoo is published by sBooks and is available now in ebook for just 99p.
---
So if you like the sound of this book and want to get yourself a copy then you can get yourself a copy at Amazon.
And you can read other reviews at Goodreads
---
About the Author
Wendy Percival was born in the West Midlands and brought up in the Worcestershire countryside. After training as a primary school teacher she moved to North Devon in 1980 to take up her first teaching post and remained in teaching for 20 years.
An impulse buy of Writing Magazine inspired her to start writing seriously. She won Writing Magazine's Summer Ghost Story competition in 2002 and had a short story published in The People's Friend before focusing on full length fiction.
The time honoured 'box of old documents in the attic' stirred her interest in genealogy and became the inspiration for the Esme Quentin mystery novels Blood-Tied and The Indelible Stain. She is currently working on the third in the series, where the clandestine past of the Second World War provides the secret world into which Esme must delve to uncover the truth.
When she's not writing fiction, Wendy conducts her own family history research, sharing her finds on her blog, www.familyhistorysecrets.blogspot.com.
Wendy lives in a Devon thatched cottage beside a 13th century church with her husband and a particularly talkative cat.
You can find more on her website.
---
My thanks to Brook Cottage Books for letting me be a part of this book blitz.