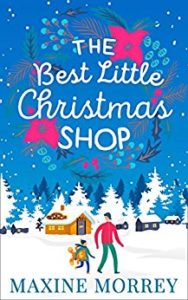 #blogtour – The Best Little Christmas Shop by Maxine Morrey @Scribbler_Maxi @rararesources #bookreview #giveaway
I'm so pleased today to be on the blog tour for The Best Little Christmas Shop by Maxine Morrey. Thank you to HQ, Netgalley and Rachel Gilbey of Rachel's Random Resources for the review copy and the place on the tour. I have my review for you and a rather lovely giveaway but first let's find out what the book is about.

Come home for Christmas to the Best Little Christmas Shop – the snowiest, cosiest place you can be!

Home for the holidays… 

Icing gingerbread men, arranging handmade toys and making up countless Christmas wreaths in her family's cosy little Christmas shop isn't usually globe-trotter Lexi's idea of fun. But it's all that's keeping her mind off romance. And, with a broken engagement under her belt, she's planning to stay well clear of that for the foreseeable future…until gorgeous single dad Cal Martin walks through the door!

Christmas takes on a whole new meaning as Lexi begins to see it through Cal's adorable five-year-old son's eyes. But, finding herself getting dangerously close to the mistletoe with Cal, Lexi knows she needs to back off. She's sworn off love, and little George needs a stability she can't provide. One day she'll decide whether to settle down again – just not yet.

But the best little Christmas shop in this sleepy, snow-covered village has another surprise in store…
---
This book had me at the word 'shop' as I always love to read books where shops are involved. The shop in question is The Four Seasons, run by Lexi's family and it's quite a clever set up as the stock changes for each of the four seasons. We meet Lexi in the run up to Christmas and so it's a Christmas shop and it just sounds so lovely and inviting.
Lexi has (or had) a fascinating job working in Formula 1 but it's all gone pear-shaped and she's back home living above the garage at her parents' house and working in the shop, not to mention dressing up as an elf and decorating gingerbread men. When she meets gorgeous new guy in town, Cal Martin, and his son, George, it seems that her life may be on the up again if only she can let herself be happy.
I thought Cal was really lovely and from the way he was described he has all the women swooning at his feet. Not to mention his very cute little boy who wins Lexi over straightaway. However, I have to say that I found Lexi really quite annoying at times. I wanted to grab her and shake her and tell her to get on with it. I think for me this book was a little on the long side and I just wanted it to get to the point. It probably just reflects my impatient nature though as there's quite a build up for around 90% of the story!
Having said that, it's ultimately a feel-good Christmas read, one that is light and sweet and ideal for the season. Lexi's family is made up of some interesting characters and they all added something to the mix, along with her best friends, Xander and Giselle. As an ensemble piece it works really well.
It's a tender, gentle love story/romance and I'd love to take a visit to The Best Little Christmas Shop. I'd also rather like to know what happens to Lexi and Cal next – a sequel perhaps?
---
If you like the sound of The Best Little Christmas Shop then the ebook is available now.
And there are lots of other fab blogs taking part in the tour so please go and check them out.
---

Look what you could win!
Signed copy of The Christmas Project

The Best Little Christmas Shop notebook

Box of mini gingerbread men

A chocolate teddy bear
---

Maxine has wanted to be a writer for as long as she can remember and wrote her first (very short) book for school when she was ten. Coming in first, she won a handful of book tokens – perfect for a bookworm!
As years went by, she continued to write, but 'normal' work often got in the way. She has written articles on a variety of subjects, aswell as a book on Brighton for a Local History publisher. However, novels are what she loves writing the most. After self publishing her first novel when a contract fell through, thanks to the recession, she continued to look for opportunities.
In August 2015, she won Harper Collins/Carina UK's 'Write Christmas' competition with her romantic comedy, 'Winter's Fairytale'.
Maxine lives on the south coast of England, and when not wrangling with words loves to read sew and listen to podcasts. As she also likes cake she can also be found either walking or doing something vaguely physical at the gym.
​Follow Maxine Morrey