#blogtour – Hydra by Matt Wesolowski @ConcreteKraken @OrendaBooks #bookreview
Welcome to my stop on the blog tour for Hydra by Matt Wesolowski. Thank you to Orenda Books and Anne Cater for the review copy and the place on the tour. Here's what Hydra is all about:

A family massacre
A deluded murderess
Five witnesses
Six Stories
Which one is true?

One cold November night in 2014, in a small town in the northwest of England, 21-year-old Arla Macleod bludgeoned her mother, stepfather and younger sister to death with a hammer, in an unprovoked attack known as the Macleod Massacre. Now incarcerated at a medium-security mental-health institution, Arla will speak to no one but Scott King, an investigative journalist, whose Six Stories podcasts have become an internet sensation.

King finds himself immersed in an increasingly complex case, interviewing five key witnesses and Arla herself, as he questions whether Arla's responsibility for the massacre was as diminished as her legal team made out.

As he unpicks the stories, he finds himself thrust into a world of deadly forbidden 'games', online trolls, and the mysterious black-eyed kids, whose presence seems to extend far beyond the delusions of a murderess…

Dark, chilling and gripping, Hydra is both a classic murder mystery and an up-to-the-minute, startling thriller that shines light in places you may never, ever want to see again.
If you like the sound of it then it's available now in ebook and paperback.
---
I'm one of those very few book bloggers who haven't read Six Stories yet (although I do have it on my Kindle). So, whilst I knew there was a podcast style to the writing, I didn't really know what to expect.
In Hydra, Scott King, the journalist behind the Six Stories podcasts, looks into the infamous massacre in 2014 of the Macleod family (mother, father, younger daughter) by Arla Macleod, the elder daughter. In each of the six episodes he interviews a different person and gains a different perspective on what happened and why Arla did what she did.
This is one creepy story. One of dangerous games and rituals, one of black-eyed kids, one of eerie events and mixed-up people. I made the mistake of reading it in bed at night and getting it into my head that the black-eyed kids were going to pop their scary faces round the door any minute. Whilst it didn't give me nightmares, it definitely disturbed my dreams. It's quite freaky in places and very dark.
The story is plotted well as Scott learns more about Arla's life and hears from people who knew her at various times, as well as the woman herself. As the whole thing unfolded it drew me in and I wanted to find out why. Why did this young woman kill the people closest to her? What were the circumstances that led up to the horrific events.
I did struggle a bit with pretty much the whole book being in interview style, and the answers being like a conversation. I think it's not a style that particularly suits me as a reader. But that doesn't take away the fact that this is a clever, accomplished and unique book with a very current theme and I strongly suspect Wesolowski is an author to watch in the future.
---

---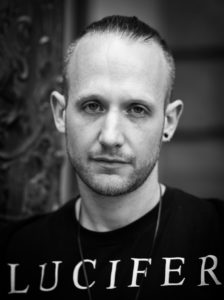 Matt Wesolowski is an author from Newcastle-Upon-Tyne in the UK. He is an English tutor and leads Cuckoo Young Writers creative writing workshops for young people in association with New Writing North. Matt started his writing career in horror and his short horror fiction has been published in Ethereal Tales magazine, Midnight Movie Creature Feature anthology, 22 More Quick Shivers anthology and many more. His debut novella The Black Land, a horror set on the Northumberland coast, was published in 2013. Matt was a winner of the Pitch Perfect competition at Bloody Scotland Crime Writing Festival in 2015, and his winning thriller, Six Stories, achieved massive critical acclaim, was a number-one bestseller in ebook, and was sold to Hollywood for a major motion picture. He is currently working on another installment in the Six Stories series.