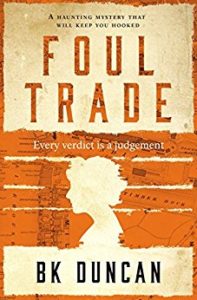 #blogblitz – Foul Trade by BK Duncan @BKDuncanwriter @Bloodhoundbook #bookreview
I'm so pleased to be taking part in the blog blitz today for Foul Trade by BK Duncan. Thank you to Sarah Hardy and Bloodhound Books for the review copy and the place on the tour. I reviewed a short prequel to this – The Last Post – a few weeks ago and you can read my review here.
I'm reviewing Foul Trade today but first let's have a look at what it's all about:

It is March 1920. May Keaps, the Poplar Coroner's Officer, has never failed to provide a jury with sufficient evidence to arrive at a just verdict.

The poverty, drunken fights between visiting sailors, drug trafficking, and criminal gangs, haunting the shadows of the busiest docks in the world, mean that the Coroner sees more than its fair share of sudden and unnatural deaths.

May relishes the responsibility placed upon her but there are many who believe it's an unsuitable job for a woman. Even May begins to wonder if that is the case when the discovery of a young man's body, in a Limehouse alley, plunges her into an underworld of opium dens, gambling, turf wars, protection rackets and murder.

As her investigations draw her into danger, it becomes increasingly clear that whoever is responsible intends to avoid the hangman's noose by arranging to have May laid out on one of her own mortuary slabs.
Foul Trade is available now in ebook and paperback.
---
What appealed to me about Foul Trade as soon as I read the blurb was the fact that May Keaps, the main character, is the Poplar Coroner's Officer. Poplar is an interesting place to read about, being known for being quite run down and impoverished. And then there's the fact of May's job which has so much potential for intriguing storylines, especially in 1920 when it's not considered to be a job for a female and she's only really there because of the effect of the Great War.
I last met up with May in The Last Post, a novella set in 1918. I liked her a lot then and this full length novel didn't change my mind about her. May is feisty and clever and very likeable. She's one of those people who seems to get herself into all sorts of situations, sometimes dangerous ones, but is incredibly brave about it. I'm not sure whether, in reality, a woman in her position would have done half of the things she does in Foul Trade, but it certainly made for an interesting read and I'd love to know more about the author's research as I bet it was fascinating.
I also really liked the Coroners that May ends up working for. Both made me smile at times and I found them to be really interesting and complex characters.
Duncan's writing style is quite perceptive and a little bit sardonic at times. I marked this passage as it made me smile
She'd filled a further hour with pointless and unsatisfactory housework before her sister was back with her pasty-faced friend in her shadow. May hadn't seen Elaine for a while and burgeoning womanhood wasn't treating her well; her hair was lank, her chin dotted with white-headed spots, and her arms seemingly welded across her chest to hide her emerging bosoms. May secretly hoped that the dream of becoming an actress wasn't a shared one or Elaine would be very disappointed. Alice was striking with dark hair and blue-grey eyes but she also made the air in a room shiver with energy whenever she entered. Elaine sort of plopped into a vacant space. May suspected it was an awareness of this contrast that made Alice like to go around with her.
The story covers drug addiction, Chinese turf wars and a gaiety show that May's sister, Alice, is linked with. There's a lot going on and I did think the book was maybe a little tiny bit on the long side (there's an awful lot going on!) but ultimately it's intriguing with a fabulously sharp heroine. I do like Duncan's way with words and I think we may be seeing more of May Keaps.
---
Please do check out the other blogs taking part in the blitz.
---

BK Duncan is the pen name Ruth Wade has adopted for the May Keaps series of historical crime novels.
Born on a steam railway and brought up on the South Coast of England, such beginnings were destined to leave BK Duncan with a love of vintage transport, crashing seas, and Art Deco architecture.
Following a career encompassing developmental learning and change-management consultancy she now combines producing her own work with lecturing part-time in creative writing in colleges and academies in Cambridge and Oxford. Her two great passions are longbow archery and the Argentine Tango. Sadly, she is not nearly as accomplished at either as she'd like.
BK Duncan also writes historical crime novels as Ruth Wade.
BK Duncan pages on Ruth Wade website