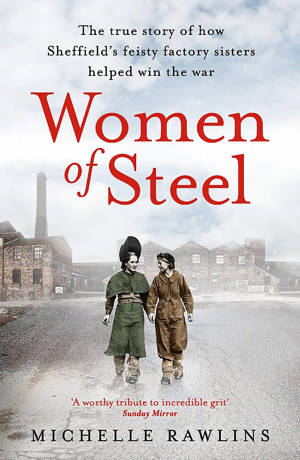 ShortBookandScribes #Giveaway of a Paperback Copy of Women of Steel by Michelle Rawlins
I'm delighted to be giving away a copy of Women of Steel by Michelle Rawlins today, which has just been published in paperback by Headline. Today is a special day as it marks 80 years since the final day of the Sheffield Blitz, with 12th and 15th December 1940 being the worst nights of German Luftwaffe Bombing that took place in my home city.
Wikipedia tells me that "In total over 660 people were killed, 1,500 injured and 40,000 made homeless. 3,000 homes were demolished with a further 3,000 badly damaged. A total of 78,000 homes received damage. Six George Medals were awarded to citizens of Sheffield for their bravery during the raids. 134 victims of the raids were buried in a communal grave in City Road Cemetery."
---
In her book, Michelle Rawlins covers some of the Women of Steel's own experiences during the Sheffield Blitz. I loved the book and you can read my review here. The women were so strong and feisty, doing hard labour and mostly loving it! It's a book that made me cheer for their achievements but also broke my heart to read what they went through.
---
---
To be in with a chance of winning a paperback copy of Women of Steel you need to do at least one of the following things (each one earns you one entry):
Comment on this blog post saying why you want to read the book.
Go to the pinned tweet on my Twitter account, follow and retweet.
Good luck.
Terms and conditions:

1. UK only.
2. Giveaway ends 5pm Friday 18th December 2020.
3. Winners will be chosen at random and contacted shortly after the end of the 
giveaway.
4. Spam or giveaway accounts will not be included.