A very tasty Christmas giveaway from @MicheleGormanUK, aka Lilly Bartlett! #giveaway #win
After loving Lilly Bartlett's last book, The Big Dreams Beach Hotel, I couldn't resist the chance to read Christmas at the Falling Down Guesthouse as part of the blog tour taking place soon.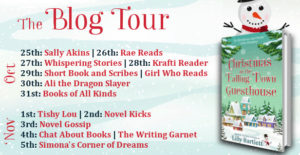 Put your feet up and tuck into the mince pies, because you won't have to lift a finger to enjoy this Christmas!

Too bad the same can't be said for single mother and extremely undomestic goddess, Lottie. When her beloved Aunt Kate ends up in hospital just before Christmas, Lottie and her seven-year-old daughter rush to rural Wales to take over her B&B. A picky hotel reviewer and his mad family are coming to stay, and without the rating only he can give them, Aunt Kate will lose her livelihood.

But Lottie can barely run her own life, let alone a hotel. How will she manage to turn the falling-down guesthouse into the luxurious wonderland the reviewer expects? And could the mysterious taxi driver, Danny, who agrees to help her, turn out to be the real gift this season?

As the snow sparkles on the trees and hot chocolate steams in your hand, snuggle into the delicious magic of Christmas at the Falling-Down Guesthouse.
---

In the meantime I have the most amazing competition to tell you about.
Win 4 dozen homemade Christmas cookies from Sunday Times bestselling author Michele Gorman, aka Lilly Bartlett!
Enter to WIN 4 dozen Christmas cookies baked by the author! Unlike poor Lottie in Christmas at the Falling-Down Guesthouse, she's a keen cook who grew up baking every Christmas with her mum – dozens and dozens (and dozens!) of cookies to fuel the family through the season. This year, she'll be baking for YOU!
The giveaway is global and the winner will be randomly selected on November 1st. To enter, sign up HERE for Michele's/Lilly's newsletter (around 3x per year, you can unsubscribe easily at any time and your details will never be shared).
Wow, I wish I could enter!!! I can't, but you can, so go, go, go!
I hope to see you back here for my stop on the tour on 29th November.