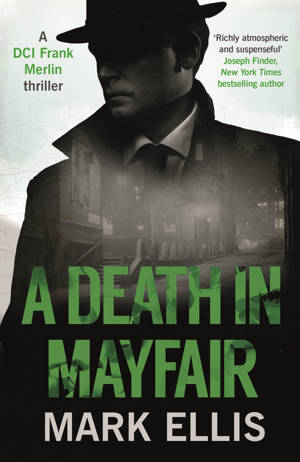 ShortBookandScribes #Extract from A Death in Mayfair by Mark Ellis @midaspr
I'm so pleased to be able to share an extract from A Death in Mayfair by Mark Ellis with you today. My thanks to Amber Choudhary from Midas PR for providing the extract.
---

---
December 1941. Japanese planes swoop down and attack Pearl Harbour. America enters the war and Britain no longer stands alone against Hitler. But conditions on the home front remain bleak, and for Scotland Yard detective Frank Merlin, life is as arduous as ever.  He is diverted from his tenacious campaign against London's organised criminal gangs by the violent deaths of two young women in the centre of the city. Merlin investigates and encounters fraudulent film moguls, dissipated movie stars, mad Satanists, and brutal gangsters amongst others as he and his team battle to uncover the connections and search out the truth.
Published by Accent Press on 21st November 2019 as a paperback original at £8.99.
---

---
CHAPTER 1
Friday December 5th 1941
London

It was an hour before dawn when the officers gathered at the street corner. Their target was ten doors down the terrace. Clouds of frozen breath trailed off into the darkness above them. Across the way a parked cart stank of the horse manure stored under its tarpaulin covers. A cat wailed in the distance.

They were seven. Merlin and his men, Johnson and Cole, and four uniformed constables from the local East End station. Merlin examined faces with his torch. Everyone was tensed for action. He raised his right hand. They all knew the drill and moved silently down the road towards the house.

The two stockiest constables carried a compact battering ram, a heavy iron tube with a large rounded end. They waited for a whispered 'Yes' from Merlin before smashing it into the front door. After four blows the policemen were able to clamber into the unlit hallway.
There they were met by panicked screams, shouts, and the sound of frantic footsteps. In the midst of this came the unmistakeable noise of gunfire. One of the constables fell
to the ground, and the other policemen took cover. More shots lit up the air but none hit home. When the firing stopped, Merlin's torch picked out several shadowy figures racing up the stairs.

"Inspector Johnson, take Cole and one of the constables and follow. You two others search the ground floor. For Christ's sake be careful. I'll check on the lad here." Merlin knelt down to the stricken constable who was conscious but clearly in pain.

"It's my arm, sir."

Merlin found the wound a couple of inches above the elbow. "It looks like it's just a flesh wound, lad. I'll tie something around it. We'll call the medics as soon as we can."

Merlin made a makeshift tourniquet with his handkerchief, squeezed the man's hand then headed up the stairs. The first and second floors were clear. On the third and final floor the stairs opened onto a large space, unfurnished save for a heavy metal bedframe in the middle of the room. Two unhappy-looking men were standing handcuffed to the bed under the gaze of a constable.

"That was quick work, officer."

"They tripped over each other, sir, and fell flat on their faces. We were right on them so it was easy, really. Two others got out onto the roof, though." There was a noise from behind and Merlin turned to see Cole climbing out of a window with Johnson about to do the same.

Merlin followed his men out onto the roof and found them with his torch scrambling along the gables to his right. The street terrace was a long one with interconnected roofs. They were not steeply cambered but the surface was icy and treacherous. Gunshots suddenly
rang out from somewhere and Merlin ducked and braced himself against the wall beneath the window. A bullet whizzed past his ear and thudded into the window casement. He waited a moment then edged carefully along the brickwork. The moon came out from behind some clouds and he saw his men lying flat twenty yards ahead. There was another shot and, to his surprise, he saw one of his men rise and return fire. Someone screamed and a heavy clattering sound followed. Merlin's heart was pounding as he skidded from his cover to a chimney pot ten yards further along. He shone his torch again and saw a
man racing away in the distance with his officers in pursuit. A loud animal cry from below made Merlin jump; he went to the roof edge and pointed his torch down. A motionless body was spreadeagled in an alleyway and something was crawling over it. He had little religious belief these days but by reflex he made a sign of the cross. Then Johnson was shouting for him, and he turned and hurried on.

His men were on the roof of the furthest house, looking down. "It's no good, sir" said Johnson. "He's hopped it down the drainpipe. Cole here wanted to follow him down but I said it was too dangerous."

"I'm sure I can manage it, sir. He looked like he was limping before he went down. If I go now, he won't have got far."

Merlin edged forward and saw the drainpipe. "Sorry, Constable. The Inspector is right. It's not a risk worth taking. We've bagged two of them, at least. The other fellow you were chasing has had it. From your bullet or the fall I'm not sure. Where did you get the gun?"

"One of those two inside was carrying and I pocketed it" answered Johnson.

"Good thing you did, or one or both of you might have copped it. There'll be some tedious questions to answer but you were clearly within your rights to fire."

* * *
---
---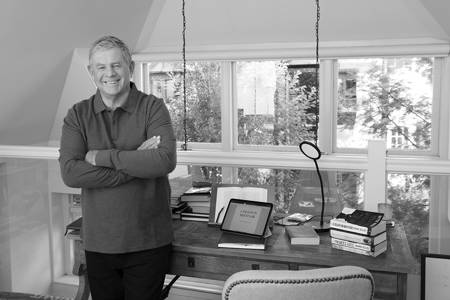 Mark Ellis is a thriller writer from Swansea and a former barrister. He is the creator of DCI Frank Merlin, an Anglo-Spanish police detective operating in World War 2 London. His books treat the reader to a vivid portrait of London during the war.
Mark grew up under the shadow of his parents' experience of the Second World War. He has always been fascinated by the fact that while the nation was engaged in a heroic endeavour, crime flourished. His father served in the wartime navy and died a young man. His mother told him stories of watching the heavy bombardment of Swansea from the safe vantage point of a hill in Llanelli, and of attending tea dances in wartime London under the bombs and doodlebugs.
In consequence Mark has always been fascinated by WW2 and in particular the Home Front and the fact that while the nation was engaged in a heroic endeavour, crime flourished. Murder, robbery, theft and rape were rife and the Blitz provided scope for widespread looting.This was an intriguing, harsh and cruel world. This is the world of DCI Frank Merlin.
Mark Ellis' books regularly appear in the Kindle bestseller charts. He is a member of the Crime Writers Association (CWA). His most recent book, Merlin at War, was on the CWA Historical Dagger Longlist in 2018. A Death in Mayfair will be published in November 2019.